Italy and France See Slower Virus Spread With Reopening in View
Italy and France See Slower Virus Spread With Reopening in View
(Bloomberg) -- Italy and France reported progress in slowing the spread of the coronavirus, offering encouragement to leaders who plan to start easing nationwide lockdowns next month.
Patients who recovered from infections outnumbered new cases in Italy on Thursday for the first time since the country became Europe's original center of the outbreak. In Brussels, European Union leaders backed a 540 billion-euro ($580 billion) relief plan for companies and economies.
Italy's unprecedented shutdown, which began March 10, has closed factories, confined people to their homes and brought daily life for 60 million people in the euro area's third-biggest economy to a near standstill. An initial reopening of businesses is planned for May 4, provided they observe protective and social distancing guidelines.
"The numbers are particularly reassuring," Italian Civil Protection Department chief Angelo Borrelli told reporters, referring to the infection data. Hospitalizations, including in intensive care, have been decreasing since early April, according to Italian authorities.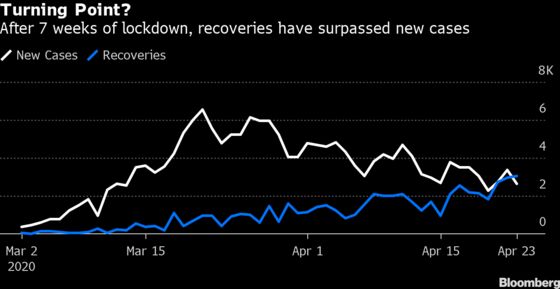 France is working on a plan to gradually lift restrictions on non-essential travel and reopen the economy starting May 11. President Emmanuel Macron told mayors on Thursday that the end of the lockdown will happen within a national framework that can be adapted locally, depending on health conditions and mass transit, according to a government official. Macron also told them schools would gradually restart.
With almost 70,000 coronavirus deaths combined, Italy, France and Spain face Europe's toughest choices between halting the economic devastation and relaxing weeks of lockdowns that have reined in the outbreak. Some other EU countries, such as Germany and Austria, began easing this month.
Italy counted 2,646 new cases for the latest 24-hour period, compared with 3,370 a day earlier, while 3,033 patients were reported as recovered. Daily deaths linked to the virus rose to 464, compared with 437 on Wednesday. France, where hospitalizations are also declining, reported the fewest deaths since Sunday.
"From May 4, the manufacturing, auto, fashion and design sectors — along with many others including construction — will reopen, but only if they guarantee social distancing and protection measures," Italian Deputy Health Minister Pierpaolo Sileri said in an interview on Thursday. Stores and shopping centers will follow in mid-May, he said.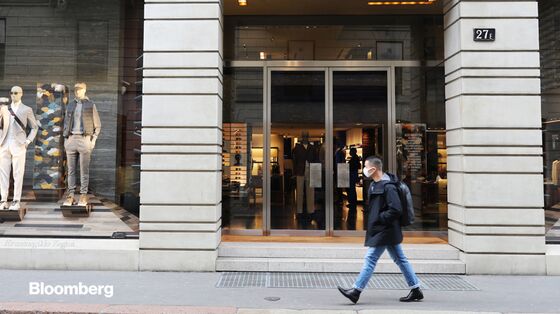 As insights into the outbreak expand, Italy reported Thursday that 18% of the more than 1 million people screened for the coronavirus in the country tested positive. In New York City, the hardest-hit area in the U.S., 21.2% of people in a small sample tested positive for a blood marker showing that they had been infected at some point, Governor Andrew Cuomo said.
EU leaders, at odds over joint debt issuance, failed to make much progress on a longer-term rebuilding plan for the continent's economy. German Chancellor Angela Merkel did pledge to back the short-term stimulus package after European Central Bank President Christine Lagarde told heads of government that the euro-area economy could shrink by as much as 15% this year as a result of the pandemic.
Prime Minister Boris Johnson's government pledged to step up virus screening in the U.K. after facing criticism that its tracking and testing response was inadequate. Public Health England Director of Health Improvement John Newton, the government's testing program coordinator, said the U.K.'s screening capacity is on track to reach 100,000 a day by the end of next week.
Spain, the country with the second-most coronavirus cases after the U.S., reported the most new infections and deaths in almost a week, a day after lawmakers extended a state of emergency through May 9.