With an Eye on Netanyahu's Job, Finance Chief Battles Virus
With an Eye on Netanyahu's Job, Finance Chief Battles Virus
Israel's new Finance Minister Israel Katz has said he plans to run for prime minister once Benjamin Netanyahu steps aside. Right now, he's trying to make his mark by hauling Israel out of a coronavirus-induced recession after a mixed record in a previous role.
After more than a year of policy paralysis, Israel installed a new government on Sunday with an emergency mandate to tackle the Covid-19 outbreak. Katz, a Netanyahu ally, took over the treasury promising to rebuild the economy and boost competition. The stakes are high -- for both him and the country.
If it's a tough job in the best of times, now it's doubly so. At the height of the health crisis, Israel imposed a near-total economic shutdown, sending joblessness skyrocketing from below 4% to nearly 28%, with output expected to contract more than 5% this year.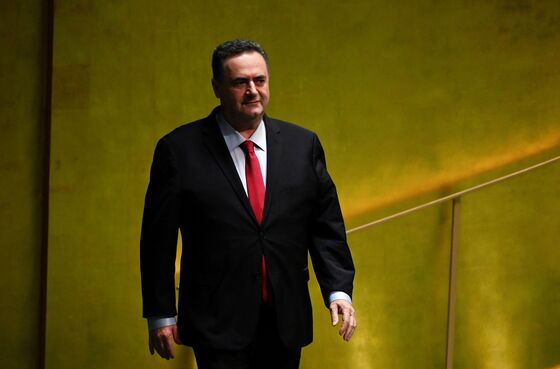 "The steps we will take need to encompass the whole government, much of society, so that we can create an economy of unity, an economy of competition, an economy that will get going after everything that's happened," Katz said at a transition ceremony at the ministry on Monday. A spokesman declined an interview request.
The previous government approved emergency fiscal aid worth 80 billion shekels ($22.8 billion), but one of Katz's first priorities will be to pass the overdue 2020 budget. He has a reputation as a political bulldozer, but a record number of ministers will all be clamoring for funds, so negotiations could be tough.
Economists are urging him to focus on reducing unemployment and invest in growth engines like infrastructure spending. At the same time, Bank of Israel Governor Amir Yaron has warned that the country must eventually be able to show it can lower its deficits and debt load to protect its credit rating and borrowing costs.
"The main threat on the Israeli economy is that current unemployment will stay with us for several years," said Yarom Ariav, a former Finance Ministry director general. "He has to be very precise because from one hand he cannot say now is the time just to increase the deficit with no limits, but from the other hand he should not cut the budget."
Katz has said he'd like to run for prime minister and is confident he'd win. But in Israel, leadership of the Finance Ministry can often be a political graveyard, rather than a stepping stone to the top job, because decisions directly impact the livelihoods of millions and the potential to disappoint is so great. A rare success story is Netanyahu, who used the position as a springboard to return to the prime minister's office after his 1999 election defeat.
"This is a bad place for a politician to be and this now is a bad time to be in that place," said Reuven Hazan, a Hebrew University political scientist. "The only way to move up was the Finance Ministry and he has to hope that he doesn't die there."

Israel's Troubled Mass Transport Costs GDP Billions: Watchdog
While a student at the Hebrew University in the 1970s and 1980s, Katz was a right-wing activist at a time of heavy Arab-Jewish friction on campus, and he gained attention by locking up the rector in his office.
He entered parliament in 1998 after serving as an aide to Ariel Sharon, the former Israeli prime minister, and as deputy director of the Industry and Trade Ministry. He was minister of agriculture under Sharon, but his defining cabinet position was his service as transportation minister from 2009 to 2019. He was lauded for advancing numerous projects and opening up aviation competition, and criticized for failing to relieve traffic congestion.
The previous state comptroller singled him out for failures that have seen Israel's traffic surge to the highest level in the developed world.
For all the criticism, analysts and associates credit Katz with being a hard worker who pushed through changes. Uzi Yitzhaki, who worked at the Transportation Ministry for 22 years including more than four as director general under Katz, called him "the most professional" minister he worked with.
"There was no day and night, the whole ministry needed to work around the clock," Yitzhaki said. "He really believed in the power of the private sector and cooperation with businesses and the private sector to improve the Israeli economy."
Katz also served as intelligence minister and as acting foreign minister, where he focused on building ties with Gulf Arab states, according to one of his former advisers, who asked for anonymity to discuss private ministry business. Among Katz's initiatives is a plan to link to Arab states with Israel via a series of railways. He's also pushed the idea of building an artificial island across from the Hamas-run Gaza Strip that would be a conduit for humanitarian aid.
With Netanyahu slated to go on trial starting this month for on corruption charges, Katz may have a chance to shine in leading the economy's recovery while his boss fights indictments. Despite a lack of economic background, his political prowess is seen as giving him an advantage despite the challenges.
"The thing about that position is it's not necessarily a business or economics position," said Mitchell Barak, a pollster and former adviser to several Israeli finance ministers. "It's a political position, and this is where Katz is going to be good. He's got the political savvy and the political juice."