Danish Millennials Pinched After Inflation Hits 37-Year High
Danish inflation is higher than millennials have ever experienced in their lives.
(Bloomberg) -- Danish inflation is higher than millennials and younger adults have ever experienced in their lives.
After a decade of price increases clocking in at less than 2% a year, consumers are now having to contend with a whopping 5.4% gain in March from a year earlier -- a level not seen since May 1985, when the Internet was in its infancy and the Berlin Wall was still standing.
The young and less wealthy people will be impacted the most and will probably have to get used to worse, said Bjorn Tangaa Sillemann, senior analyst at Danske Bank A/S. Danish inflation hasn't peaked yet, spurred by high demand for the country's goods and services abroad and continuing wage growth, he said.
"It's a wake up call for some that their incomes are no longer adequate and they will have years with no real wage growth," he said. "The younger generations, who haven't had entire careers to build fortunes and excess equity in their homes, are more exposed in a situation like this."
Many will have to learn to get by with less discretionary spending, such as vacations, cars and fine dining, since prices on food products are rising as well, said Helge Pedersen, chief economist at Nordea Bank Abp. On the other hand, there is room for house prices to fall, allowing more young people to enter the very expensive housing market in Copenhagen in particular, he said.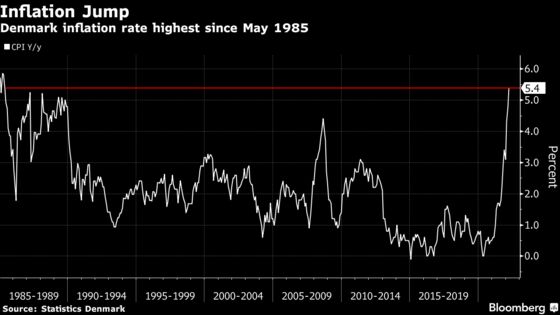 Inflation is boosted by energy, as well as wage pressures stemming from labor shortages, after Denmark managed to dodge much of the pandemic's economic fallout that hurt its peers. In addition to higher prices, consumer sentiment has also been sapped by Russia's invasion of Ukraine, dropping last month to the lowest level since the financial crisis of 2008.
Electricity contributed one percentage point of the annual increase in inflation last month, while fuel added about 0.8 percentage point, Statistics Denmark said in a statement on Monday.
"It's absolutely crucial how much you drive a car and how you heat your home," Danske's Sillemann said. "In particular, diesel cars were very expensive to drive in March, after prices rose 17%, the largest monthly price increase to date."
The finance ministry warned last month that inflation may average 5.5% this year and gross domestic product may fail to grow under a "stagflationary" worst-case scenario that presumes weakening consumer and business confidence, and a stop to oil and gas flows from Russia due to its war in Ukraine.
Read More:
Danske Bucks Trend by Raising Danish Economic Growth Forecast