Indonesia Shortens Year-End Holiday to Contain Virus Surge
Indonesia Shortens Year-End Holiday to Contain Virus Outbreak
(Bloomberg) -- Indonesia cut short its year-end holiday as the country continues to grapple with Southeast Asia's worst coronavirus outbreak.
The government shortened the break by three weekdays, setting only Dec. 24-25 and Dec. 31-Jan. 1 as public holidays, compared with a previously planned 11-day stretch. That comes after a long weekend in October led to a spike in confirmed cases shortly afterward.
Indonesia has reported more than a half-million Covid-19 cases so far. An association of doctors had urged the government to shorten or even scrap the holiday as health workers struggle to keep up with the caseload.
The year-end break previously had been lengthened after days were moved from the Eid al-Fitr holiday in May, which was curtailed because of the pandemic.
Despite Wednesday's announcement, shares of flag carrier PT Garuda Indonesia rallied as much as 5.9%, beating Indonesia's benchmark stock index, which rose as much as 1.1%.
Indonesia's airline industry has shown signs of improvement since virus curbs were eased in October, with 2.2 million people traveling domestically that month, up from just 87,000 in May. Still, the figure was 66% below its year-ago level, according to the country's statistics office.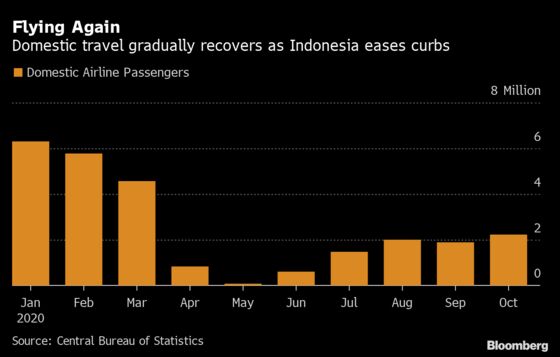 According to Ricky Putra, chairman of the Bali Hotels Association, advance bookings at the island's luxury hotels have reached 30% for Christmas and 35% for New Year. Reservations could rise to 50% occupancy as people solidify their travel plans, Putra said.
However, the economy could miss out on the increased demand for goods and services that was expected from a longer holiday, Mirae Asset Sekuritas Indonesia economist Anthony Kevin wrote in a report. Manufacturing activity, which expanded in November after a two-month slump, could slip back into contraction this month, he said.