Hungary Takes No Chances With Fourth Rate Hike in a Month
Hungary delivered its fourth interest-rate increase in a month to nurture a nascent recovery in the forint.
The central bank in Budapest raised the one-week deposit rate by 20 basis points to 3.10% on Thursday. Economists in a Bloomberg survey were evenly split in predicting a 10 or 20 basis point increase.
The central bank is doubling down on monetary tightening after its inflation-fighting credibility was dented this fall, when it prematurely slowed the pace of rate hikes as peers in the Czech Republic and Poland accelerated theirs and prices continued to surge. That changed in November, when the central bank raised interest rates three times by a cumulative 110 basis points.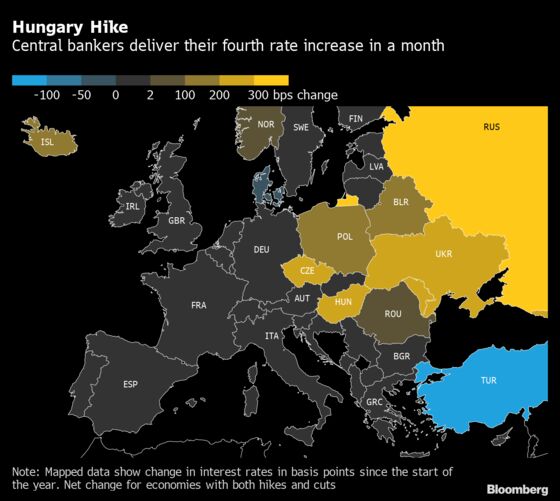 "We expect another 20-basis-point hike next week" before the bank returns back to mothly rate decisions, OTP Bank analysts led by chief economist Gergely Tardos said in a research note. "We expect the effective rate to be hiked to around 4.5% early 2022."
The forint was little changed at 363 per euro by 1:10 p.m. in Budapest. It strengthened 1.5% against the common currency in the past week, the biggest gain among emerging-market currencies along with the zloty. 
In addition to rate increases, the central bank also plans to wind down its program of government-bond purchases to boost its monetary tightening program, Governor Gyorgy Matolcsy told lawmakers on Wednesday.