How Stephen Strasburg's $245 Million Deal Is Structured to Pay Far Less
(Bloomberg) -- Savvy dealmaking or mortgaging the future?
In certain nerdy baseball circles, it is a question that's been asked about the Washington Nationals for years now because of its prolific use of deferred money in structuring multi-year player contracts. After the team re-signed World Series MVP Stephen Strasburg earlier this week to what was, briefly, the richest deal ever for a pitcher, it's come to the fore yet again.
On its face, Strasburg's seven-year, $245 million deal works out to $35 million a year -- just a million dollars less per year than the record-shattering, nine-year, $324 million contract that Gerrit Cole signed with the New York Yankees Tuesday. (Cole, 29, ostensibly got two more years and $1 million more a year because he's two years younger, and one could argue, better.)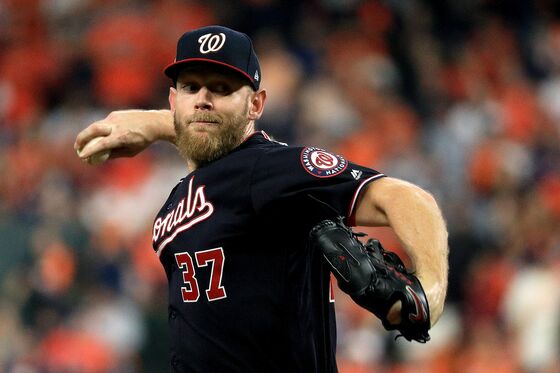 But the Lerner family, which owns the Nationals, won't actually be paying the 31-year-old righty nearly as much over the life of his contract. A whopping $80 million, equal to one-third of the contract's total value, won't be paid until 2027. And that IOU, which will be paid in three annual installments after the actual contract ends, only accrues interest at a paltry rate of 1% a year.
Effectively, that means the Nationals have locked Strasburg up for $23.6 million a year -- a hefty hometown discount to Cole's $36 million-a-year deal -- for the next seven years, based on figures compiled by Cot's Baseball Contracts.
Of course, plenty of other teams have deferred contracts on their books -- Bobby Bonilla day is an annual holiday for baseball junkies for good reason -- but when it comes to creative financing, few organizations anywhere in professional sports come close to pushing the envelope like the Nationals.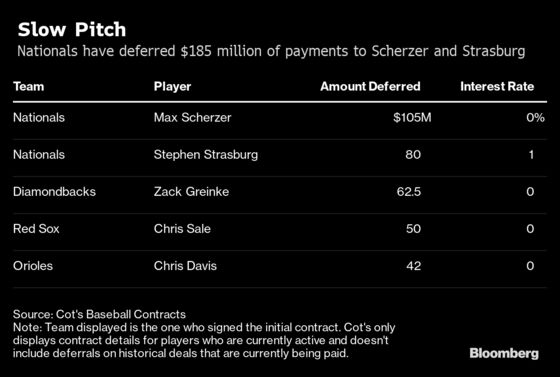 In 2015, Max Scherzer, the team's other ace, deferred nearly half of his seven-year, $210 million contract at 0% interest. Pitcher Patrick Corbin's contract and former second-baseman Daniel Murphy also agreed to zero-interest, deferred deals. Moreover, former star third-baseman Ryan Zimmerman has a personal-services contract -- a practice that has since been banned by Major League Baseball -- that will pay him a total of $10 million over five years once he hangs up his cleats.
And that doesn't include deals that were rejected. The team reportedly offered outfielder Bryce Harper a $300 million deal that would have deferred a third of that and stretched out the payments until the former MVP hits age 60.
The Nationals have been mum on the issue, but it's not hard to see why it would make sense, according to Marc Edelman, a law professor at the Zicklin School of Business at Baruch College, who consults extensively on legal and business issues in sports.
By persuading players to take less money upfront, it gives the reigning World Series champs more financial flexibility to keep their team together and win now. (For the purposes of the competitive balance tax, baseball's version of a soft salary cap, deferred payments without interest can provide relief.)
And as the value of sports franchises grow and revenues from television broadcasting rights increase, pushing out fixed obligations into the future could be a smart move. For players, whose careers are relatively short, deferred compensation creates a de facto retirement savings plan they can dip into once their playing days end. And agents benefit from the arrangement because it's the nominal values that typically set market prices.
"If the interest rate is really only 0 or 1%, that would seem to be a bit surprising based on the time value of money, but presumptively the person negotiating the contract understands this and they're negotiating that interest rate cost into the value of the contract," Edelman said.
The strategy isn't without risk, though. Backloading so many contracts, of course, could eventually hamstring the Nationals once they need to start replacing their current crop of All-Stars and hamper their ability to compete for the best players in free agency in the future.
For example, the Nationals will owe Scherzer and Strasburg a combined $41.7 million in each of 2027 and 2028. Neither ace is currently under contract for those years. Both pitchers were represented by superstar agent Scott Boras in their negotiations.
The 2001 World Series champion Arizona Diamondbacks are an example of how the strategy could go wrong, according to Brett Albert, a faculty lecturer at the Isenberg School of Management at University of Massachusetts, Amherst.
"The early 2000s, Diamondbacks were really aggressive about deferring salaries for players like Randy Johnson and Curt Schilling," he said. "They won a World Series, but the revenue streams never materialized like they anticipated they would and they had to subsequently gut their roster."
Albert says the decision to defer liabilities into the future comes down to an ownership group's tolerance for risk. Lucrative TV deals and revenue sharing agreements mean there's a lot of room for error, but a recession, for example, could always make tickets at the ballpark harder to sell.
For his part, Cole decided that money is more valuable in the present. He reportedly turned down an eight-year, $300 million dollar offer from the Los Angeles Dodgers. That deal had a higher average annual value, but also featured deferrals.
To contact the reporter on this story: Brandon Kochkodin in New York at bkochkodin@bloomberg.net
To contact the editors responsible for this story: Joe Weisenthal at jweisenthal@bloomberg.net, Michael Tsang, Larry Reibstein