Hong Kong's Hamster Cull 'Excessive, Unjustified,' Experts Say
(Bloomberg) -- Hong Kong's decision to kill thousands of hamsters, rabbits and chinchillas on the never previously seen risk that they could spread Covid-19 to humans is an overreaction borne of Covid Zero politics that may have no impact on the pandemic, experts said.
The city, which has staked its reputation and its future on being a Covid-free bastion, is grappling with the simultaneous arrival of the omicron and delta variants after more than six months without a single local infection that wasn't tied to international travel. While its robust tracking and tracing efforts allowed experts to pinpoint the origin of almost every omicron infection, the case of delta that unexpectedly appeared in a local pet store worker flummoxed officials and led them to consider less likely scenarios. 
Hamsters can be infected with Covid and have been shown to disseminate it within their species directly or through the air, though studies show they harbor active virus for only a handful of days. There's no evidence that they can spread it long-distance or to people. Officials in Hong Kong said the pet store case is potentially the first known hamster-to-human transmission, despite the two-year pandemic that has led to more than 334 million infections worldwide. Health experts were less convinced.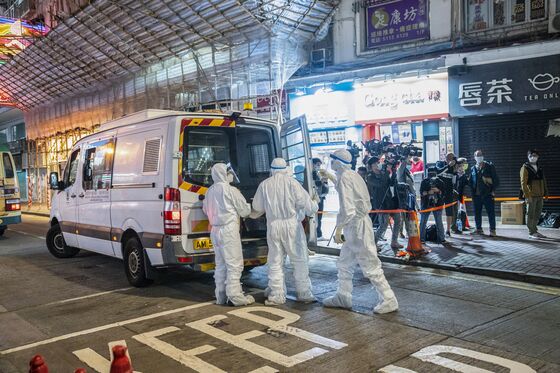 "As hamsters do not appear to be the wellspring for Covid-19, it is probable that they were infected from an outside, human source," said Nicholas Thomas, an associate professor in health security at the City University of Hong Kong. "Absent any evidence to the contrary, the culling of the estimated 2,000 hamsters cannot be justified and needs to be seen as an unfortunate, excessive reaction to this one cluster."
Hong Kong isn't the only place where animals have been targeted in the name of reducing Covid risks. Denmark culled millions of minks in 2020 after outbreaks at breeding farms, while pet dogs and cats were killed in mainland China and Vietnam after their owners tested positive for Covid or were quarantined for potential exposure. 
The practice has been used for years to try to reduce the risk from a variety of pathogens in livestock. African swine fever led to the slaughter of millions of pigs across the world in 2020. Hong Kong culled more than 1.5 million chickens in 1997 to stamp out an outbreak of H5N1, a severe disease known as bird flu, and other examples crop up every few years.
Those examples aren't comparable to killing household pets, Benjamin Cowling, a professor of epidemiology at the University of Hong Kong, wrote on Twitter. The moves also haven't had the intended effects of helping restore cross-border travel with China, he said. 
Hong Kong officials said their hands were forced when the testing of dozens of small pets turned up 11 infected hamsters at the pet store, called Little Boss. Traces of the virus were also found at off-site warehouse. In addition to the pet store worker, a 67-year-old female customer who she served also contracted Covid. The customer's daughter, who purchased the hamster, hasn't been infected, but her husband tested positive. 
"We don't want to cull animals, but we have to protect public health," said Thomas Sit, an official at the Agriculture, Fisheries and Conservation Department at a briefing on Tuesday. "We don't have a choice. We have to make a fast decision." 
It's possible that a large group of animals infected with Covid that are housed together could pass the virus on to a human, as was seen at the mink farms, said Vanessa Barrs, chair of companion animal health at City University of Hong Kong. While that could theoretically occur with hamsters held in warehouses, the risk from one animal is almost negligible, she said.
Throughout the pandemic, there haven't been any known cases of transmission from pet animals, she said. 
The government is "acting out of an abundance of caution," Barrs said. Officials "have taken a very measured approach in the culling of the animals within the warehouse. And that is in line with Hong Kong policy of Zero Covid," she said. "But for animals in individual houses, I think it is not necessary and more humane approaches could be adopted."
The decision brought anguish from families and criticism from animal protection agencies, including the Society for the Prevention of Cruelty to Animals.
"The SPCA is shocked and concerned over the recent government announcement on the handling of over 2,000 small animals, which did not take animal welfare and the human-animal bond into consideration," the SPCA of Hong Kong said in a Facebook post. "We urge pet owners not to panic or abandon their pets."
Over 23,000 people have signed a petition asking the government to stop the cull and quarantine the small animals instead. 
The U.S. Centers for Disease Control and Prevention says the risk of animals spreading Covid is low, though more studies are needed to see how they can be affected by the virus. People who are infected or have been exposed should avoid contact with animals, including their pets, livestock and wildlife, the officials said. 
There is the potential for an infected herd of hamsters to shed the virus and transmit it, a real risk for those with exposure through their jobs, said Leung Chi-chiu, a respiratory expert and former chairman of the Hong Kong Medical Association's advisory committee on communicable diseases. 
While the risk to people exposed to one animal may be low, anyone who is infected "could serve as a highly infectious source to spark another outbreak in the community," he said.