HBO Doesn't Need Boxing Gloves to Tussle With Netflix
(Bloomberg Opinion) -- HBO is walking out of the ring, and it's the right move. 
The pay-TV network, now owned by AT&T Inc., says it will no longer air boxing matches after this year as viewership declines and fight fans become an increasingly tiny portion of its subscriber base. It's one of the biggest visible strategy changes to come to a Time Warner unit since AT&T completed a $102 billion takeover of the former HBO parent in June. 
HBO is "a storytelling platform," Peter Nelson, executive vice president of HBO sports, told the New York Times. "Our audience research informs us that boxing is no longer a determinant factor for subscribing to HBO." Instead, it's award-winning shows like "Game of Thrones," the kind of high-quality programming in which AT&T is looking to increase its investment to stay competitive with Netflix Inc. This year's Emmy Awards marked a significant milestone for the TV industry as Netflix tied with HBO, a premium channel around since the 70s, for the most wins.
Of all the inevitable friction bound to arise from a stodgy phone company taking control of an entertainment business, HBO has been the most closely watched aspect of AT&T CEO Randall Stephenson's Hollywood close-up. I wrote in July that AT&T probably won't ruin HBO, but it may Netflix-ize it—and that's not a bad thing. But Stephenson, for his part, hasn't always detailed that strategy eloquently, hence concerns among AT&T investors and HBO fans. At a Goldman Sachs media investor conference this month, Stephenson used the terribly poor analogy that Netflix is the Walmart of subscription-video services and HBO is like Tiffany. He meant to imply that HBO is the creme-de-la-creme, failing to consider that to many, Tiffany is an old-timey, overpriced mall brand that was slow to catch up with consumer trends. In that sense, Tiffany is the perfect analogy for many media companies, just not the way Stephenson intended.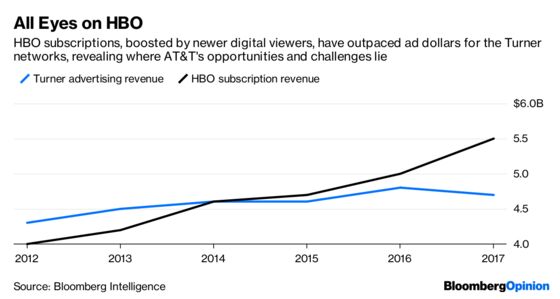 Even so, AT&T's vision for HBO doesn't seem half bad. The goal is to invest more money in the network so that it offers more hit shows per year and keeps viewers from resorting to Netflix. For instance, HBO had a strong run this summer with "Succession," the gripping drama about a wicked media mogul and his unscrupulous children. But once the series ended in early August, many viewers may have switched to Netflix or Amazon, which seem to offer endless streams of shows, many quite good. Taking boxing off the air leaves more room for HBO to fill out its lineup with more binge-worthy content. 
The waning popularity of boxing programming is a lot like what's happening in the TV industry more broadly. It reminds me of the Mayweather-McGregor fight a little more than a year ago that put boxing icon Floyd Mayweather in the same ring as Conor McGregor, the trash-talking star of Ultimate Fighting Championship, the home of mixed martial arts. McGregor's constant action kept the fight interesting, while Mayweather simply waited for McGregor's stamina to run out—sure, a better technique, but boring for audiences. As expected, McGregor lost, but he delivered the show. (That fight aired, incidentally, not on HBO but its rival Showtime.)
Audiences have short attention spans these days, so while HBO may have a strong reputation as a classic entertainment destination, it has no choice but to keep pace with Netflix or else risk being on the ropes. Fewer real-life fights in the ring, more dragon combat. 
To contact the editor responsible for this story: Beth Williams at bewilliams@bloomberg.net
This column does not necessarily reflect the opinion of the editorial board or Bloomberg LP and its owners.
Tara Lachapelle is a Bloomberg Opinion columnist covering deals, Berkshire Hathaway Inc., media and telecommunications. She previously wrote an M&A column for Bloomberg News.
View
Opinions
From Business And Policy Experts On BQ Prime