Hong Kong Residents Rush to Get Covid Shots as Omicron Cases Grow
Hong Kong Residents Rush to Get Covid Shots as Omicron Cases Grow
(Bloomberg) -- More Hong Kong residents are getting their first shots against Covid-19 as an omicron cluster spreads to a likely sixth person and an expansion of the vaccine mandate looms. 
The city administered more than 7,000 initial injections on both Saturday and Sunday, the most since the end of November, as citizens fear a fresh wave of infections tied to an outbreak at a local restaurant. The government confirmed a fifth case, the wife of an earlier patient, and said a sixth person who also dined at the restaurant tested preliminarily positive. 
There are still two tables of unidentified guests -- six people -- who were at the Moon Palace on Dec. 27 when a Cathay Pacific Airways Ltd. aircrew member who later tested positive was there eating with his family, government officials said at a briefing on Monday. They urged patrons to reach out to health authorities and said they will use CCTV footage to track them. 
The cluster, Hong Kong's first local infections in over seven months, is raising anxiety in the city given its vulnerability to any new wave. While domestic transmission has been stamped out through strict travel rules, that's given rise to a lack of urgency to get vaccinated among the population. Only about 65% of residents have received a first shot, one of the lowest rates among developed economies. 
Even with the new flareup, resistance among the unvaccinated remains considerable: the number of people getting booster shots over the weekend outpaced those getting their initial injections after the city expanded access to all adults on Jan. 1. Some 8,000 people got a third injection on Saturday, the first day of the New Year, with more than 10,600 others following on Sunday. 
To encourage uptake, the government is set to launch an expanded vaccine mandate that will require an inoculation in order to patronize restaurants, gyms and cinemas later this month.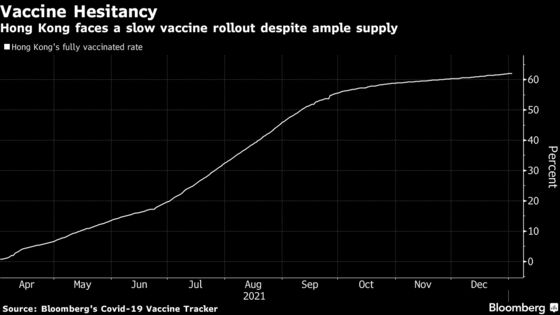 The government has sent 340 contacts of the initial patient from the restaurant, and their household members, to be isolated at the city's quarantine center, according to a government statement on Sunday. The group includes 22 restaurant staff members and about 170 customers. 
Those with recent infections didn't have any face-to-face contact with the aircrew member, officials said. The latest infection was detected in a 66-year-old woman who was eating with her relatives at the restaurant when the Cathay aircrew member was there. 
The omicron threat has delayed Hong Kong's long-negotiated border reopening with the mainland China, which local media had widely reported was expected to begin on a trial basis last month. While city officials have offered little clarity on the timeline recently, they said they plan to prioritize getting the current omicron cluster under control since it poses a risk of triggering a broader outbreak in the community. 
Hong Kong tightened quarantine requirements for aircrew, which is believed to be the initial loophole that allowed the virus to seep into the city and seed the local transmissions. The new requirements have dealt a blow to local airlines and further stretched supply chains that were already under strain.