Greenwich Lures NYC Firms Seeking Offices After Remote-Work Boom
Greenwich Lures NYC Firms Seeking Offices After Remote-Work Boom
(Bloomberg) -- The droves of New Yorkers who decamped to the affluent suburb of Greenwich during the pandemic now face the prospect of going back to the office -- and some companies are betting that they want to stick close by.
Office demand is soaring in the Connecticut town, pushing rents higher and sparking bidding wars for the best spaces, brokers say. Finance firms including Elliott Management Corp. and Apollo Global Management Inc. have opened locations or are looking to expand to the area, long known as a hedge fund capital and haven for Wall Street executives.
"We believe in the next few months there will be very little opportunity left to lease spaces in the central business district of Greenwich," said David Block, an executive vice president at brokerage CBRE Group Inc. in nearby Stamford.
It's sign of employers adjusting to a new reality after the pandemic fueled a rush of demand for bigger houses outside of New York. The median single-family home price in Greenwich, located about 30 miles (48 kilometers) north of the city, jumped 31% in the first quarter from a year earlier to $2.24 million, according to appraiser Miller Samuel Inc. and brokerage Douglas Elliman Real Estate. And after more than 15 months of remote work, even longtime residents may now want the flexibility of being closer to home.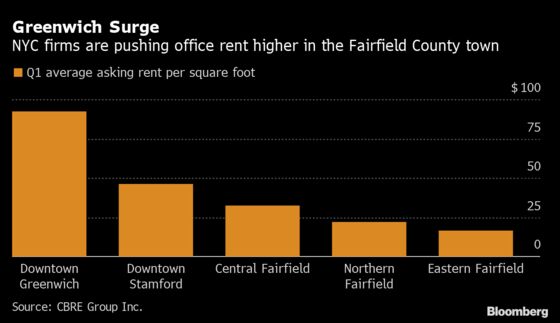 Office leasing in Greenwich's central business district jumped 312% in the first quarter from the previous one, to 120,000 square feet (11,000 square meters) -- almost triple the five-year quarterly average, according to CBRE. By contrast, lease deals in Manhattan's Midtown and financial district were less than half their pre-pandemic levels.
Greenwich's average asking rents in the central business district rose 3% in the first quarter from a year earlier to $92 a square foot, CBRE said. In midtown Manhattan, asking rents were about $82 a square foot.
"With offices opening back up, companies are looking at people that have moved out of the city or those not ready to go back to New York City on a five-day-a-week basis," said James Ritman, an executive vice president at Newmark in Connecticut. "They've got a lot of principals, senior leadership that live out this way and there's been a bit of an awakening or realization during Covid that you don't have to be commuting two to three hours a day."
Since the pandemic hit, 54% of the newly leased space in Greenwich went to Manhattan-based companies, according to CBRE. That includes agreements with RedBird Capital Partners, founded by former Goldman Sachs Group Inc. partner Gerry Cardinale, and iCapital Network, a financial-technology platform.
While Greenwich has long been known for its hedge funds, it's seeing increased interest from asset managers and private equity firms, Ritman said. Apollo, which is keeping its Manhattan headquarters, is opening an office in the town to attract and retain workers outside of the city, a spokeswoman said last month. The firm has said it is testing partial remote work through the end of the year.
Greenwich is a tiny market, making most lease deals relatively small and of little impact to New York. According to CBRE, the Greenwich central business district has roughly 2 million square feet of rentable offices. That's about the size of Goldman Sachs Group Inc.'s headquarters in lower Manhattan.
With the tight supply, the vacancy rate in Greenwich's main office area is at 11%, less than the 25% average in its home of Fairfield County. But there are pending deals that will likely close by the end of the year, resulting in "almost zero vacancy in downtown Greenwich," Ritman said.
New York firms are testing the waters with shorter leases -- roughly three years -- to see how the return-to-work strategy evolves, CBRE said. And for now, deals are mostly confined to smaller companies rather than big banks eyeing suburban outposts.
"Some of the larger institutions are starting to think about looking at offices here again, but we haven't seen anybody in that space really step forward and make that commitment yet," Block said. "Everyone's trying to figure out what it looks like post-pandemic."