Goldman Will Require Covid Boosters, More Tests as It Sticks to Office Return
(Bloomberg) -- Goldman Sachs Group Inc., one of Wall Street's staunchest advocates of returning employees to offices, will make Covid-19 vaccination booster shots compulsory as the firm stands by its workplace philosophy through surging infection rates in New York.
Anyone entering offices must get a booster by Feb. 1 if they're eligible for the injections by that date, the investment bank told its U.S. workforce. In the meantime, mandatory testing will double to twice weekly on Jan. 10, the bank said. A company spokeswoman declined to comment on the new measures.
The adjustments contrast with a loosening of return-to-office mandates in corporate America as the omicron variant and holiday gatherings drive a worldwide surge in coronavirus cases. Citigroup Inc. told staffers in the New York City metropolitan area this month that they could work from home again through the holidays. Wells Fargo & Co. recently postponed its return-to-office plans indefinitely.
Goldman Sachs Chief Executive Officer David Solomon and JPMorgan Chase & Co.'s Jamie Dimon were among financial industry leaders who led a push earlier this year to summon employees back to Manhattan skyscrapers. Still, JPMorgan sounded a note of warning a week before Christmas, urging employees to "exercise caution and good judgment" if meeting up and to get tested for Covid-19 before eventually reentering offices.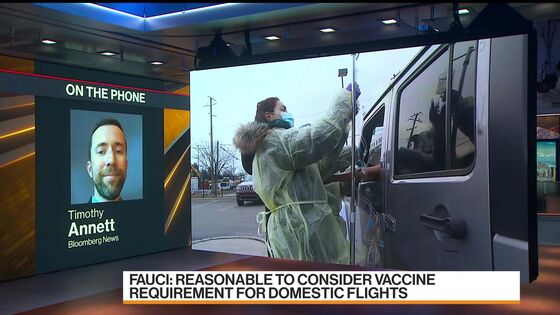 The region surrounding Wall Street has been hit hard by this winter's jump in infections, raising concerns about what will happen at workplaces and in schools after families return from gatherings or vacations in coming days. Cases in New York State jumped to an all-time high Dec. 24 before retreating on Christmas Day, probably because of the holiday.
Earlier this month, Jefferies Financial Group Inc. asked its employees to work remotely and get a vaccine booster by the end of January. Morgan Stanley told employees who have to be in the office through the first two weeks of January to limit large in-person meetings and to wear face coverings when not at their desks, a mandate it had previously eschewed.