Goldman Sees Italy Junk Risk Leading to 'Sudden Stop' of Capital
Goldman Sees Italy Junk Risk Leading to 'Sudden Stop' of Capital
(Bloomberg) -- A downgrade of Italian debt to junk following higher budget spending plans could trigger a "sudden stop" in the supply of capital, according to Goldman Sachs Group Inc.
The government's announcement of a 2019 deficit above market expectations and potential increases to public debt will increase the risk of downgrades, which could see Italian assets decline further, Goldman said Friday. The three main ratings companies have Italy two notches above junk, with Moody's Investors Service and S&P Global Ratings set to review the nation next month.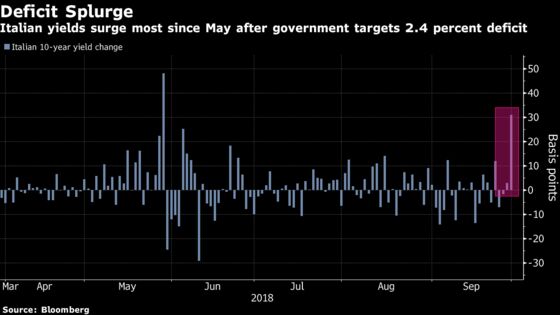 "A downgrade by one notch by one or more rating agencies would place further pressure on Italian assets," wrote Silvia Ardagna, senior fixed-income strategist at Goldman. "A downgrade by more than one notch could lead to negative self-fulfilling debt dynamics; under this scenario a "sudden stop" in the supply of capital cannot be ruled out."
A sudden stop would be akin to Italy being unable to obtain sufficient foreign demand for its bonds, marking a major deterioration in the country's ability to borrow. Debt is currently equivalent to 130 percent of economic output, with the total stock ranking alongside France as the largest in the euro area. A two-notch downgrade is not Goldman's base case.
While Italy's 2.4 percent budget deficit target for 2019 fell below the European Union's 3 percent limit, it could still put further strain on the country's finances, especially if the projected level is overshot, according to Goldman. The fiscal expansion is also unlikely to have any sizeable impact on economic growth, the bank added.
Italy's 10-year yield rose 37 basis points to 3.26 percent, the highest level since May 29, after coalition leaders released their deficit aims. A downgrade to junk would see the country's bonds fall out of some benchmark indexes.
Moody's has the nation at Baa2 with a negative outlook and is due to review the country by the end of October, while S&P Global Ratings assigns a BBB grade and is due to review that on Oct. 26. Fitch Ratings lowered Italy to BBB in August.
To contact the reporter on this story: John Ainger in London at jainger@bloomberg.net
To contact the editors responsible for this story: Ven Ram at vram1@bloomberg.net, Neil Chatterjee, Keith Jenkins
Get Your
Daily Newsletter
Get market moving news, top news & compelling perspectives
---