U.K. Gas Shipper Stops Supplies in Another Blow to Power Firms
(Bloomberg) -- Glencore-backed U.K. gas shipper CNG Group Ltd. will no longer provide gas to its utility clients, a move that threatens to prompt a raft of further failures in the British energy market.
CNG supplies wholesale gas to utilities that then sell it to households. The U.K. energy market is already in crisis and the exit threatens to unleash a new wave of turmoil. 
Weeks of record gas prices have already pushed 12 retail suppliers out of business since August, forcing almost 2 million households to change companies. The government has been in and out of emergency talks as the scale of the crisis grows.
CNG is advising its clients to seek alternative shipping arrangements "quickly." The company still has about 18 utility clients on its books that will now need a new supplier, Chief Executive Officer Paul Stanley said Wednesday.
"The company has been forced into an impossible position" after many of its own customers collapsed during the past months. A shrinking customer base caused the company significant financial damage, Stanley said. 
Securing new supplies is likely to cost utilities a lot more, given recent increases in the market, piling pressure on companies that are already struggling. CNG's customers are likely to be the smaller utilities as many large firms have their own gas shipping license.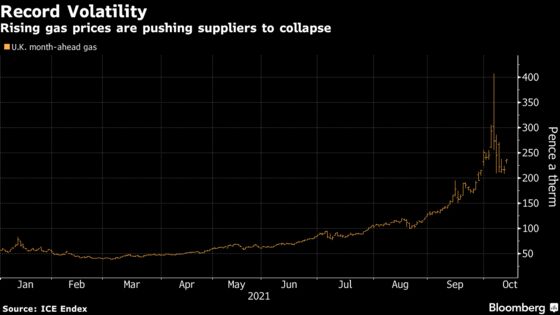 "This could be the final nail in the coffin for those suppliers," said Tony Jordan, a partner at energy industry consultancy Auxilione. "They may need to re-buy their hedges at current market rates, which they won't be able to afford. This is catastrophic for the market."
Utilities have two days to find cash to cover their energy and transportation costs within two days, according to Xoserve, a data provider for the gas market.
Glencore has been a minority shareholder in CNG since 2019 and has provided "substantial financial support to CNG through challenging market conditions," a company spokesperson said. Glencore is "engaging with the regulator" on finding a solution.
The market failures are continuing. BP Plc-backed Pure Planet and Colorado Energy with about 250,000 customers in total announced they have gone out of business. Under the U.K. system other utilities pick up the stranded customers. That's not an attractive prospect now when wholesale prices are so high and consumers are protected by price caps. Their ability to keep absorbing clients is being tested, and the government may have to step in with support.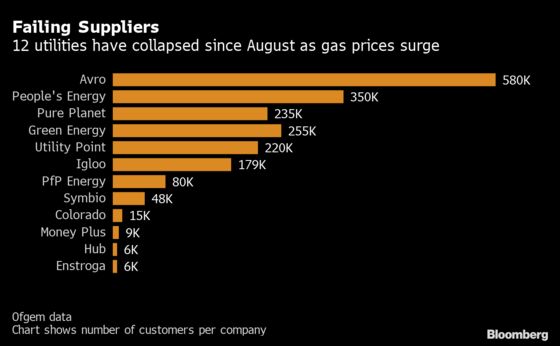 "Our priority is to protect consumers, which is why the energy price cap will remain in place to shield households from high global gas prices this winter," a spokesperson from the Department for Business, Energy and Industrial Strategy said. The price cap protects 11 million customers on default tariffs.
The U.K. had more than 70 suppliers at its peak after an experiment to make it more competitive. The number of suppliers grew after rules were relaxed for new entrants in a bid to lessen the influence of the six biggest companies. Many of these smaller companies didn't have the cash to hedge the energy they need to buy to supply households, making them more vulnerable to price shocks.
The energy regulator Ofgem said processes are in place to make sure gas supplies continue uninterrupted. 
"In recent weeks there has been an unprecedented increase in global gas prices which is unfortunately putting financial pressure on energy companies," an Ofgem spokesperson said. "If a gas shipper stops trading, industry processes ensure that gas supplies continue uninterrupted."
GoTo Energy goes into default
Supplier crisis spreads to Czech Republic as Bohemia Energy collapses
EON reviews gas contracts for new German customers