Glaxo's Vaccine Revenue Will Be Little Changed This Year
(Bloomberg) -- GlaxoSmithKline Plc said vaccine revenue for this year will be "broadly flat" as sales of Shingrix recover more slowly in some markets.
Despite the uncertainty, the drugmaker said it remains confident in demand for its vaccines. Second-quarter profit and sales exceeded expectations, buoyed by a number of its largest markets emerging from the pandemic.
The shares fell as much as 0.9% in London, after initially rising as much as 1.9%. Before today, they had risen 4.3% this year, while the Bloomberg Europe 500 Pharmaceuticals Index gained 11%.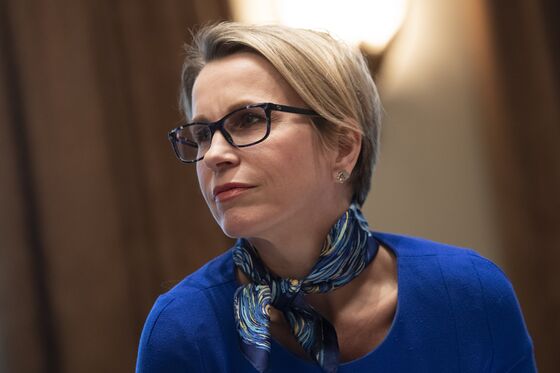 Chief Executive Officer Emma Walmsley has faced criticism from Elliott Investment Management LP, which called her leadership into question in an open letter. The company's board shot back by saying it "fully supports" her and the management team. Glaxo is splitting in two next year, when it plans to spin off the consumer-health division.
Since April, the company's management team has had more than 400 meetings with shareholders and has received "positive feedback" and support for its overall strategy and consumer-health split, Walmsley told reporters. "What shareholders want us to focus on, and we remain ready to focus on, is execution and delivery."
Earnings per share, excluding some costs, were 28.1 pence in the second quarter, Glaxo said in a statement Wednesday, compared with analysts' estimate of 20 pence. Sales rose to 8.09 billion pounds ($11.2 billion), also beating estimates.
The company reiterated its forecast for earnings to decline by a mid- to high-single digit percentage this year. If the drugmaker continues to see improving demand for adult vaccinations and the recovery of health systems in 2021, it expects to deliver earnings toward the better end of its full-year forecast.
What Bloomberg Intelligence Says:

"The sales and EPS beats may be impressive, but Glaxo's reiteration of full-year guidance just cements our view of its anemic near-term prospects. We calculate that a 276 million-pound boost from Covid-19 solutions, which is excluded from guidance, and a tax credit of 325 million pounds drove about two-thirds of the 2Q EPS beat."
-- Sam Fazeli, BI pharmaceuticals industry analyst

Click here to read the research. 
Glaxo said it had anticipated disruption during the first half of the year as governments prioritized Covid-19 vaccination programs and measures to contain the pandemic. There's still uncertainty over the impact of Covid and the speed of deployment of immunization programs, according to the statement.
The Covid-19 vaccine trials with Sanofi and Medicago Inc. may lead to emergency use authorizations by year-end if the results are positive. Glaxo doesn't currently have a Covid-19 vaccine on the market.
Glaxo said the U.S. extended its authorization for the Shingrix shot this week from over-50s to all adults at increased risk of shingles.