G-20's Economy Returns to Pre-Pandemic Level, But Gaps Linger
G-20's Economy Returns to Pre-Pandemic Level, But Gaps Linger
The economy represented by the Group of 20 leading industrial and developing nations returned to its pre-pandemic level in the first quarter albeit with differences across the bloc.
The G-20 area's gross domestic product grew 0.8% from the previous quarter, the Organization for Economic Cooperation and Development reported on Thursday.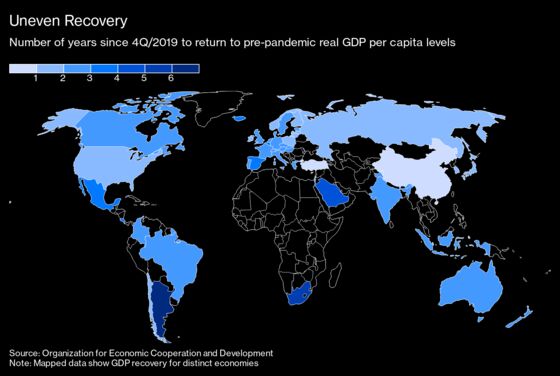 India, Turkey, China, Australia, South Korea and Brazil are now all back at the levels of output seen before the coronavirus struck. But, the U.S., Italy and South Africa were among those still falling short, with the U.K. and Italy recording the largest gaps.
The analysis suggests most economies still have a way to go in recovering the ground lost to last year's recession even though the recovery in demand has been stronger than most economists anticipated.
The World Bank this week raised its outlook for global growth, while warning emerging and developing nations will continue to struggle.