Macron Tempers Tone on Islamic Extremism After Terrorist Attack
France Vows to Stand Firm After Three People Slain in Nice
(Bloomberg) -- French authorities vowed to stand firm in the face of Islamist extremism, while sending out a "message of peace to the Muslim world," after a knifeman killed three people and injured several others at a church in Nice.
"If we're attacked, once again, it's for our values, our taste for liberty, the possibility on our soil to believe freely," President Emmanuel Macron said, after speaking to police and emergency staff at the Notre-Dame basilica in the Mediterranean city. "We will give up nothing."
Nice Mayor Christian Estrosi, who accompanied Macron on his tour of the site, said in a series of statements and videos on Twitter that it appeared a woman had been decapitated at around 9 a.m. on Thursday, but gave no details about how the two other people were killed. He said a suspect had been arrested.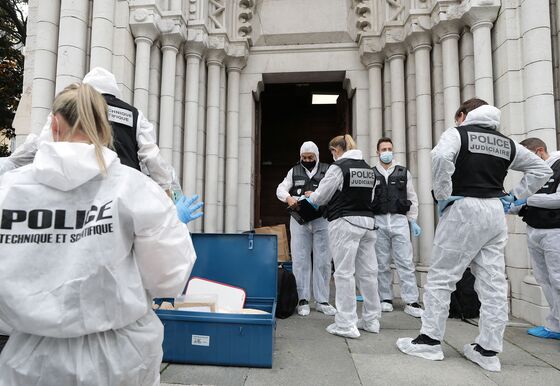 There were at least two other knife attacks in France on Thursday, while in Saudi Arabia an assailant struck a guard with a sharp object outside the French consulate in the Red Sea city of Jeddah. Macron linked the killings.
The French president is now confronted with two massive crises -- a resurgence in jihadist violence and the coronavirus pandemic. Still, the lockdown, which goes into effect from Friday to keep Covid from further spreading and overwhelming hospitals, will keep people off the streets while increased police powers can help security forces focus on counter-terrorism.
The number of soldiers mobilized for the internal-security operation Sentinelle will be increased to 7,000 from 3,000, with orders to protect churches and schools, Macron said. He'll convene a security cabinet on Friday.
"France is not the country of contempt or rejection, it is the country of tolerance, do not listen to voices that seek to stir up mistrust," Foreign Minister Jean-Yves Le Drian said in the National Assembly in Paris. "Muslim religion and culture are part of our French and European history, we respect it."
It was a clear attempt to douse a wave of anti-French sentiment that's been whipped up since Macron earlier this month outlined measures he says enforce the republic's secular values in a bid to counter extremist ideology. He described Islam as a religion "in crisis," while insisting on the need to not stigmatize Muslims.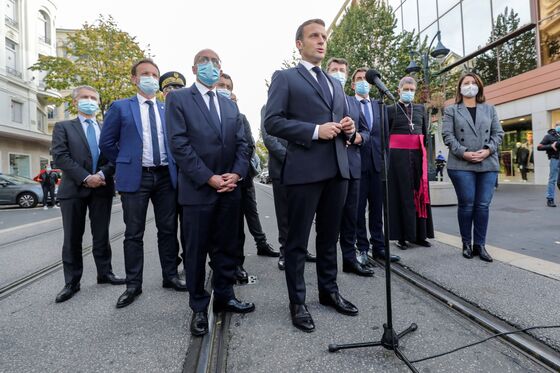 After Samuel Paty was beheaded on Oct. 16 for having shown his students cartoons of the Prophet Mohammed, Macron said France was engaged in an "existential" battle, and at the teacher's memorial, stressed that "we won't give up on caricatures." In France, the right to blasphemy is enshrined in legislation as a component of free speech but to many Muslims any depiction of the Prophet is deeply offensive.
That all led to calls to boycott French products in some Muslim countries, with Turkish President Recep Tayyip Erdogan launching a personal attack on Macron and suggesting he was displaying religious intolerance. And in the social media echo chamber, extremists have been characterizing the French leader's remarks over the past month as the declaration of "a crusade."
"We can see in the drama, that we quickly go from virtual hatred to real violence, words and actions have consequences, and engage their authors in responsibility, and France never forgets," Le Drian said. "We never compromise on our values of humanism and freedom, and our model of democracy and pluralism."
In Nice, Estrosi's comments were a sign of how the tone in France is hardening in the wake of the tragedies.
"Enough is enough," he said. "It is now time for France to exempt itself of peacetime laws to permanently annihilate Islamo-fascism from our territory."