Fortnite Frenzy Is Just the Start for Turtle Beach, Analyst Says
(Bloomberg) -- Turtle Beach Corp. is no one-hit wonder.
The video-game headset maker's shares have soared almost 1,200 percent year-to-date thanks largely to the exploding popularity of Fortnite. That gain makes the stock the biggest gainer on the Nasdaq composite and D.A. Davidson analyst Tom Forte sees no reason for the shares to slow down.
Turtle Beach "is the dominant player in the global console headset market," beating competitors with its comfort designs, shelf space in bricks-and-mortar stores and "super human hearing technology" in some headsets that allows gamers to detect rivals sneaking up on them, Forte said in a note, reiterating his buy rating -- a stance first taken last week.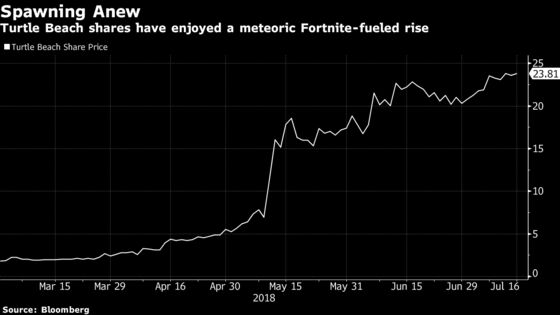 Fortnite, which has garnered 125 million users in less than a year since its release, has changed the industry to Turtle Beach's benefit even if the battle royale video game's popularity eventually wanes, Forte adds. Franchises like Call of Duty are placing more emphasis on multiplayer formats, which increases the use of headsets. Fortnite has also managed to break the traditional male video game audience mold, attracting women and younger children with less graphic gameplay, thereby broadening the demographic.
While a technical gauge -- the Williams Percentage R Indicator -- suggests Turtle Beach may be headed for a downturn, analysts remain optimistic. The company has four buy ratings and no holds or sells. Forte is the first analyst to say that shares could go even higher after the stock took a firmer hold above the prior Street high target of $20 when it accelerated in May and again in June.
Forte also added that management's lending agreement changes and equity offering earlier this year improved Turtle Beach's capital structure, suggesting the company is here to stay.
To contact the reporter on this story: Hank Tucker in Chicago at htucker24@bloomberg.net
To contact the editors responsible for this story: Catherine Larkin at clarkin4@bloomberg.net, Christiana Sciaudone, Brad Olesen