Former Harvey Weinstein Producer Derides Proposed Settlement As Unfair
(Bloomberg) -- An attorney for a woman suing media mogul Harvey Weinstein for sexual assault derided a tentative settlement with his accusers as unfair as it would essentially arm her adversaries if she doesn't take the deal.
Thomas Giuffra, a lawyer for producer Alexandra Canosa, said Thursday that his client doesn't plan to participate in the resolution, noting that money that was set side for those accusers who don't participate would instead be turned over to Weinstein's lawyers to defend him in court.
"It would be the like the U.S. giving military aid to Iran to attack Israel," Giuffra said. "They're saying either you take the money or we're going to give the guns to the man who raped you."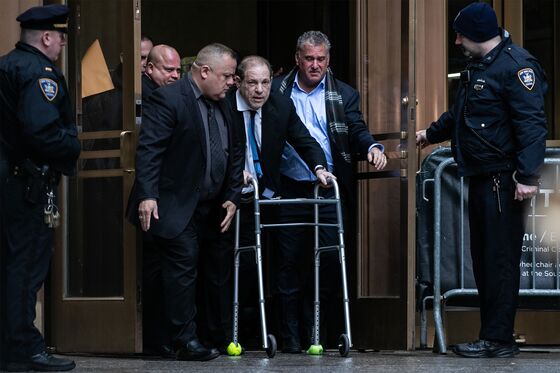 The $47 million in the settlement would be paid by Weinstein Co.'s insurers, a person with knowledge of the deal said on Wednesday. More than 30 actresses and former employees of Weinstein who have accused the mogul of offenses ranging from sexual harassment to rape would get about $25 million to drop their civil suits, the New York Times said. Weinstein wouldn't be required to admit any wrongdoing or pay anything personally, the Times said.
Canosa, a producer on the Netflix show "Marco Polo," is one of three of Weinstein's accusers who've said they don't intend to accept the deal. Canosa sued Weinstein, his companies, his brother Robert and six ex-directors in May 2018 alleging they conspired to repeatedly lure her to hotel rooms around the world so Weinstein could rape and otherwise sexually assault her. U.S. District Judge Paul Engelmayer in January denied a motion to dismiss the case before trial but tossed the claims against Robert Weinstein and the other directors.
Karen Bitar, an attorney for the Weinstein Co., said during a court conference Wednesday that the settlement would cover 98% of those with outstanding claims against the company and Weinstein, with "very limited amount of funds" set aside for accusers who don't participate and any other potential liabilities that may arise. She said the agreement isn't final because some parties haven't signed off yet.
Giuffra said he hasn't received the terms of the settlement and hasn't gotten information about Harvey Weinstein's finances that would allow him to properly evaluate any offer. While it might make sense for some of his accusers to settle over concerns about the statute of limitations, Giuffra said his client's case is stronger and that she was one of the original women to come out against Weinstein.
"They assumed we would just go along with the herd," he said. "She's the point of the spear. She deserves more than this."
The case is Canosa v Dirk Ziff, 18-cv-4115, U.S. District Court, Southern District of New York (Manhattan).
To contact the reporter on this story: Chris Dolmetsch in Federal Court in Manhattan at cdolmetsch@bloomberg.net
To contact the editors responsible for this story: David Glovin at dglovin@bloomberg.net, Joe Schneider, Steve Stroth