Traders' WhatsApp Chats Buzz With Bolsonaro Fever in Sao Paulo
Foreigners Are Betting Against Red-Hot Brazil. Locals Are All In
(Bloomberg) -- On the eve of Jair Bolsonaro's much-anticipated election, the mood in Sao Paulo's financial district is downright giddy. 
This was on full display during a sit-down with a markets analyst last week, who, upon walking into the room, extended his right hand, beamed a broad smile and declared "I'm bullish.'' There are signs of adulation everywhere: The stock-buying frenzy that's pushed the Ibovespa up 20 percent since mid-June has been dubbed the "Bullsonaro Rally'' and a GIF labeled "Minions ride the bull market" -- a twist on the pejorative Bolsominions nickname given to his supporters -- is making the rounds on traders' WhatsApp chats.
For many in the international community, witnessing this love affair from afar has been a bit uncomfortable. Bolsonaro may have modified his rhetoric of late, but he still is, after all, a far-right nationalist who forged his tough-guy image by spewing intolerant remarks about homosexuals and women and by praising the dictatorship of the late 20th century.
Foreigners, not coincidentally, are decidedly less bullish than locals. They yanked 1.1 billion reais ($297 million) from the stock market over the first three weeks of October. (Locals poured 3.7 billion reais into the market over that time.) They also have been boosting their bets against the real -- the best-performing currency in the world over the past month -- and have now established a large net short position in the futures market.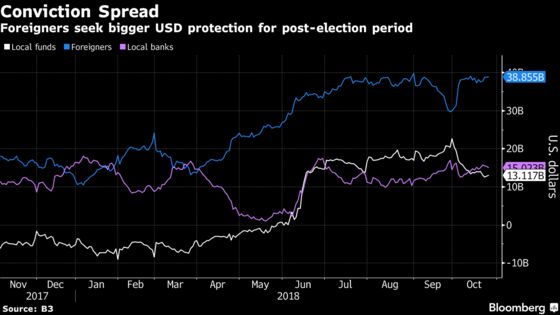 This stance, to be sure, is as much about dollars and cents as it is about staking out any sort of moral high ground. Paul Greer, a money manager at Fidelity International in London, said he expects Bolsonaro's divisive rhetoric to inhibit his ability to get key deficit-cutting legislation through Congress. "We don't believe in the likelihood of meaningful fiscal reform," Greer said. He's bearish on Brazil's currency and bonds.
That skepticism, and the judging that often comes with it, in turn strikes local investors as curious. To them, the reasons for the excitement over Bolsonaro are obvious. Most importantly, his victory will prevent the Workers' Party from returning to power just two years after it drove the economy into the worst recession in a century.
The Sao Paulo moneyed set loathes the PT, as the leftist party is known. It's hard to overstate how strong that sentiment is. In dozens of off-the-record chats in recent weeks, it was a constant refrain. Any candidate from any party would be better at this point. And in Bolsonaro, they have someone actually espousing economic policies they like: sell inefficient state companies, cut spending, deregulate.
Sure, some of his social policy positions may strike them as a bit inappropriate, but even on that front, he's carved out a core proposal that's much better received in local circles than abroad: His tough-on-crime stance.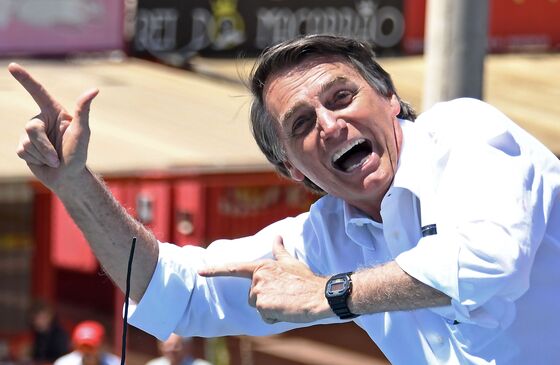 When foreigners see the former Army captain make his trademark machine-gun hand gesture at rallies or promise to instruct police to shoot to kill, they typically react with alarm. He's inciting violence, they say. And comparisons not just to U.S. President Donald Trump are quickly raised -- a comparison that Bolsonaro actually likes to make himself -- but also to Rodrigo Duterte in the Philippines and the late Augusto Pinochet in Chile.
The Economist declared Bolsonaro a "particularly nasty addition" to the club of populists taking power around the world. And when Americas Quarterly laid out what it expects from a Bolsonaro presidency, the first thing on its list was "bloodshed."
To many local investors, though, his law-and-order proposals sound great. This too came through time and again in those conversations -- how they're sick and tired of soaring crime, sick and tired of living in fear, sick and tired of having to drive around in armored cars.
There are some 60,000 homicides in Brazil each year. That's more than there are in the U.S., Mexico and Russia combined.
It's a staggering figure. And so when locals are asked about how they morally justify backing Bolsonaro and cheering on the rally he's inspired, they're typically puzzled. At times, even indignant.
This is not to say that no Brazilians are worried that Bolsonaro will turn into an authoritarian bully. Millions are, in fact. But across the country generally and on the leafy streets of Sao Paulo's financial center specifically, that is very much a minority view today.
To contact the reporters on this story: Daniel Cancel in Sao Paulo at dcancel@bloomberg.net;Vinícius Andrade in São Paulo at vandrade3@bloomberg.net;Aline Oyamada in Sao Paulo at aoyamada3@bloomberg.net
To contact the editors responsible for this story: David Papadopoulos at papadopoulos@bloomberg.net;Julia Leite at jleite3@bloomberg.net