Florida Hospital Admissions Break Covid Record Set in January
Florida Hospital Admissions Break Covid Record Set in January
(Bloomberg) -- The highly contagious delta variant is proving a dangerous mix with Florida's bustling tourism industry -- especially for young adults.
Average daily hospital admissions among 18-39 year olds in Florida have jumped about 150% in the past two weeks to a record-shattering rate, which is exceeded nationally only by a young-adults' surge in New Mexico last year, according to data from the U.S. Department of Health & Human Services. Total single-day admissions with confirmed Covid -- 1,288 on Saturday -- surpassed the previous Florida peak in January, even as older state residents fare better.
In a sign of delta's infectiousness, the hospital surge has unfolded about three times faster than the previous one, which crested six months ago.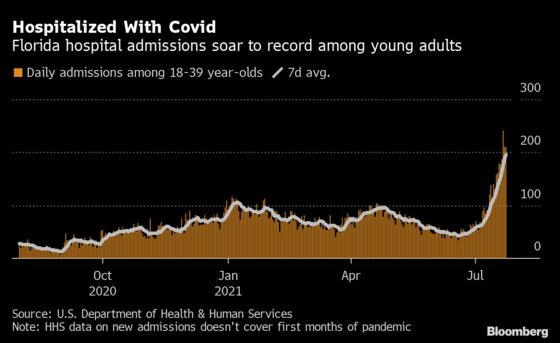 The elderly are still most likely to be hospitalized with Covid, but the gap has closed significantly. In January, a 70-and-over Floridian was about seven times as likely to be hospitalized with Covid-19 as a 30-39 year old. Now they're only about twice as likely.
Sergio Segarra, chief medical officer at Baptist Hospital of Miami, said his facility has never been this busy during the pandemic, faced simultaneously with the jump in infections and the return of more-routine hospital traffic. His Covid patients are significantly younger than earlier in the pandemic, and they tend to see better outcomes. But he worries the situation could devolve, packing the intensive-care unit.
"I don't know how long before it becomes an ICU issue where all of the ICU beds are filled and we need even more people," Segarra said.
Tourist destinations have proven particularly vulnerable to outbreaks as the world reopens for business. Surges have hit vacation destinations from Nevada to Malta.
But Florida may be experiencing a case of the worst possible timing: Delta attained dominance in much of the country just as the state entered its so-called air-conditioning season, which drives Floridians indoors out of the heat and was blamed in part for a major jump in infections a year ago.
"If what we are seeing in Florida doesn't make everybody pause and take this seriously, I don't know what will," said Ali Mokdad, a professor at the University of Washington's Institute for Health Metrics and Evaluation.
Florida health officials are urging residents to get vaccinated. While the state's inoculation rate is close to the national average, its totals are skewed higher by the large population of retirees. Just 39% of 20-29 year olds and 47% of those 30-39 have gotten a shot, compared with 84% of those 65 and over, according to the state's health department. Those young people often work jobs in the hospitality industry.
Historically, outcomes are vastly better for younger patients, but they're not risk free. Nationwide, patients 75 and over with Covid died about 16% of the time compared with 25-39 year olds who died less than 2% of the time, according to March data from Premier Inc., a health-care consultancy.
The proportion of Covid cases involving delta doesn't stand out in Florida, but the state is particularly susceptible to the variant, said William Lee, vice president of science at testing company Helix.
"Florida is unique among most of these other states in terms of the amount of tourists during this season, and there's significant pent-up demand," he said. "In proportion of delta, there is some disparity across the country. But I think that is decreasing quickly" as delta becomes dominant everywhere.
Segarra, the Baptist Hospital medical officer, said his staff is exhausted and saddened to know that many of the hospitalizations are preventable.
"We are frustrated that we do not see our community giving us the support that we need," he said. "We're not asking for more than getting vaccinated and following CDC guidelines. I don't want a parade."