First Ever Pig-Heart Transplant Boosts Shares of Swedish Medtech
First Ever Pig-Heart Transplant Boosts Shares of Swedish Medtech
(Bloomberg) -- Shares in a little known Swedish medtech company jumped as much as 15% on Tuesday following news of its involvement in the world's first ever pig-to-human heart transplant.
Machinery developed by Xvivo Perfusion AB helped surgeons at the University of Maryland Medical Center successfully transplant a genetically modified pig's heart into a 57-year-old man last Friday, according to the company.
"I never thought it would happen so soon," Xvivo's chief executive Dag Andersson told Bloomberg by phone. "The technology involved has surpassed everyone's expectations."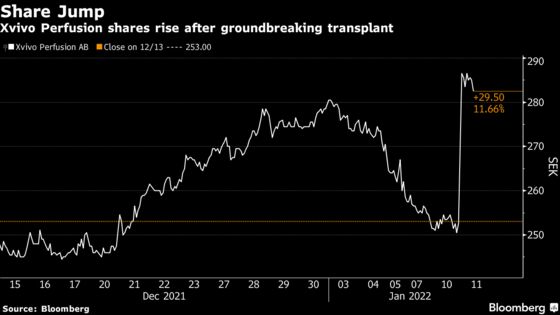 Andersson says the groundbreaking procedure -- known as a xenotransplant -- relied on Xvivo's technology and a surgical team in Europe is now conducting a similar project to the one performed in the U.S.
Human-to-human transplants have already been facilitated using the Xvivo method in clinical trials and the product has received a "Breakthrough Device Designation" from U.S. regulators. "We can't wait to commercialize this technology," the CEO said.
Xvivo's shares were the best performing on the Stockholm All-Shares Index on Tuesday, sending its market value up to $926 million.