10-Year Notes at Negative Coupons Hit Covered-Bond Market
(Bloomberg) -- In the world's biggest covered-bond market, a Danish bank says it's now ready to sell 10-year mortgage-backed notes at a negative coupon for the first time.
It's the latest record to be set in a world that's being dragged down by ever lower interest rates. In Denmark, where Jyske Bank A/S will offer 10-year mortgage bonds at a fixed rate of minus 0.5%, average Danes will borrow at rates far lower than those at which the U.S. government can sell its debt.
Jyske Bank says it would rather not be setting such records, given the global economic weakness that's behind the historically low interest rates.
"It's a first not only for us but for all Danish mortgage institutions," said Christian Bech-Ravn, head of ratings and investor relations at Jyske's mortgage arm. "Overall, I don't think it's a good sign for the economy with these very low interest levels that we are seeing at the moment."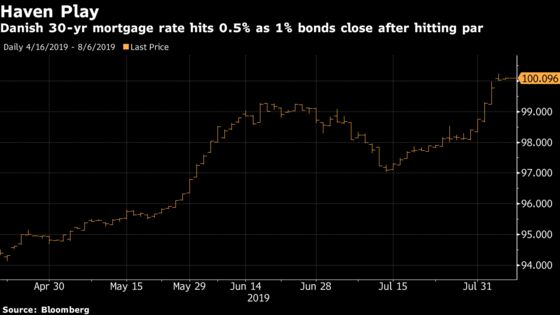 Nordea Bank Abp, Scandinavia's biggest lender, last month stunned investors in Denmark's $495 billion mortgage market when it amended its prospectus to make way for negative coupons on bonds with maturities up to 30 years. Danske Bank A/S is still monitoring the situation, says Christian Heinig, chief economist at the mortgage mortgage arm of Denmark's biggest lender.
"There's still uncertainty around the trade war, Brexit and the strength of the global economic upturn," Heinig said. "And we have central bankers both in Europe and the U.S. that are poised for further monetary easing."
Denmark's 10-year government bonds, which are less liquid than the country's mortgage bonds, are trading at yields of around minus 0.5% since breaching zero back in March.
Jyske's decision to wade into uncharted territory comes on the heels of a record wave of remortgaging in Denmark. Borrowers with around 185 billion kroner ($28 billion) in bonds outstanding filed notifications last month to prepay their loans; most will refinance into 1% coupons fixed for 30 years, according to final figures released by issuing banks on Monday.
More prepayments are likely to come later this year, as rates offered by banks keep dropping. Lenders last week started offering 30-year mortgages at 0.5%, after the 1% bonds gained in value. (Once the notes hit par, banks take them off the shelf and offer new bonds at lower interest rates.)
"The world is moving very fast right now," says Anders Aalund, director of market strategy at Nordea.
Denmark's mortgage-bond market is split into callable, fixed-rate products and loans backed by short-term bonds that need to be refinanced every few years. In the shorter end of the mortgage market, borrowers have had access to negative rates for a while. But negative coupons on fixed-rate bonds were consigned to theory, until now.
Mikkel Hoegh, an economist at Jyske Bank, says someone should write "a new, modern textbook with some examples that match the current situation."
Denmark has had negative central bank rates longer than any other country, as policy makers defend the krone's peg to the euro. The currency regime forces Denmark to track the European Central Bank in its rate decisions. Denmark is also among a handful of sovereigns left that still boasts a AAA grade at the three main ratings companies, adding to its appeal in uncertain times.
"Danish covered bonds are still considered a safe haven," Bech-Ravn said. "Investors are uncertain about the future, what's going to happen in the following years. We're also seeing more and more international investors buying krone-denominated callable bonds."
Jyske may even need to extend the maturities at which it offers negative rates, if investors keep piling into the securities.
"I can't say what'll happen in the future," Bech-Ravn said. "If you had asked me a year ago, I would have said we would never open a 30 callable covered bond with a coupon of 0.5%."
Read More About the Danish Mortgage Market

In Denmark's unique mortgage system, banks function like brokers, arranging bond sales on behalf of borrowers and charging fees for administering loans and issuing securities.

The negative callable bond is creating some technical difficulties. Jyske said it will initially be registered as a floating-rate bond until the systems of VP Securities, Denmark's central securities depository, are adapted to handle negative coupons for fixed-rate bonds.

There's an element of deja vu in all this for the Danish banks.

They first faced the question of how to handle negative rates when in early 2015 an assault on the krone's peg to the euro forced the central bank to repeatedly slash rates. The cuts led to a plunge in short-term mortgage rates to below zero, but back then, negative rates weren't considered a "realistic option," according to Nykredit Realkredit A/S, Denmark's biggest mortgage lender.
To contact the reporter on this story: Frances Schwartzkopff in Copenhagen at fschwartzko1@bloomberg.net
To contact the editors responsible for this story: Tasneem Hanfi Brögger at tbrogger@bloomberg.net;Christian Wienberg at cwienberg@bloomberg.net