Evergrande Crisis Means Suppliers Get Paid in Unbuilt Properties
(Bloomberg) -- Suppliers of China Evergrande Group are becoming casualties of its deepening liquidity woes. 
Skshu Paint Co., one of the developer's paint contractors, said it has signed agreements to receive three unfinished projects from Evergrande units to offset missed payments, according to an exchange filing. The properties are scheduled to be completed in 2022, 2023 and 2024. 
As its cash buffer wanes, Evergrande has been offering real estate projects to offset payables to suppliers and contractors. Known in China as commercial bills, these short-term IOUs have become an important financing means for Evergrande, even though they aren't technically classified as debt. In August, Evergrande included such properties in monthly contract sales for the first time. 
Evergrande's trade and other payables climbed 15% from December to a record 951 billion yuan ($147 billion) at the end of June, accounting for almost half of its total liabilities. That stands in sharp contrast with its debt, which shrank to a five-year low of 572 billion yuan.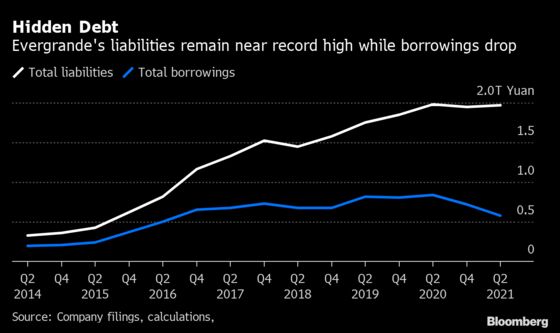 Evergrande said in its first-half earnings that some property development payables were overdue, leading to the suspension of work on some projects. The company is negotiating with suppliers and contractors to resume work. 
Skshu said that Evergrande has paid 235 million yuan worth of overdue commercial bills, of which 94% were in the form of unfinished properties, according to the filing. Only 15 million yuan were in bank transfers. 
The painting firm has started to cash out some of these properties by selling them, it said. The properties are located in central Hubei province and the southern city of Shenzhen.
With assistance from Bloomberg