EU Migration Is Helping Germany's Economic Boom
(Bloomberg) -- Germany's economy would have grown more slowly in recent years if it weren't for migration from other European Union nations, according to the German Institute for Economic Research.
The Berlin-based organization estimates that immigration added an average of 0.2 percent a year to output each year from 2011 through 2016. Over that period, more than five million EU citizens moved to the country, filling job vacancies and contributing to consumer spending.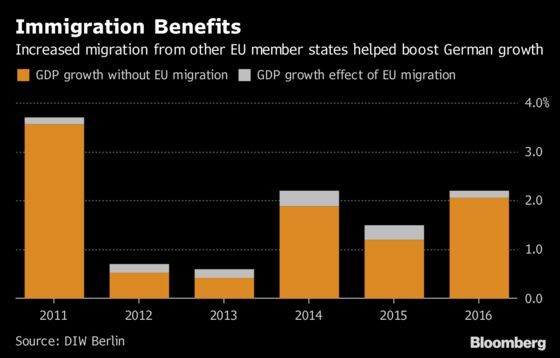 In 2015 -- the biggest year for migration -- the economy would have grown by 1.2 percent instead of 1.5 percent, the calculations by Marius Clemens and the University of Potsdam's Janine Hart show.
Immigration is a hot-button topic in German politics, with critics of Chancellor Angela Merkel claiming that her open-door policy to non-EU refugees contributed to a rise in the anti-immigrant AfD party. Merkel said this week that she won't run for another term after her party's poor showing in regional elections.
More Europeans moved to Germany than from other countries outside the bloc, according to the institute. Most EU migrants are young, highly qualified and their employment rate in 2017 was higher than for native Germans, it said.
To contact the reporter on this story: Piotr Skolimowski in Frankfurt at pskolimowski@bloomberg.net
To contact the editors responsible for this story: Paul Gordon at pgordon6@bloomberg.net, Brian Swint