Russia Invades Ukraine and Europe Buys More Gas. Here's Why
European Energy Firms Rush to Buy Russian Gas Even After Attack
25 Feb 2022, 7:27 PM IST
(Bloomberg) -- In the hours after the invasion of Ukraine, there were calls for Europe to punish Russia by ending energy purchases. But the immediate response of European energy companies was to buy more natural gas, much of it transported through Ukraine's pipeline network.
For a second day, utilities are ordering more fuel under long-term contracts with Gazprom PJSC because the deals are priced in a way that Russian imports became cheaper than spot gas traded at European hubs.
Current gas prices are "well above the likely sales price for many Gazprom import contracts and so driving purchases higher," Stefan Ulrich, a gas analyst with BloombergNEF, said after the record rally on Thursday. "There may also be a strategic component as buyers seek to buy now given a potential for disruption in flows or further price increases."
Europe's first war of the 21st century has highlighted its dependence on Russian energy supplies. A third of gas demand is met through pipelines from Siberian gas fields, giving state-run Gazprom billions in revenue every year. Cutting off those supplies would cause gas prices to skyrocket and threaten power cuts, an unpalatable prospect for governments that are already grappling with the contribution of higher energy prices to surging inflation. Oil and gas were exempted from the package of sanctions announced by the U.S. and European Union on Thursday.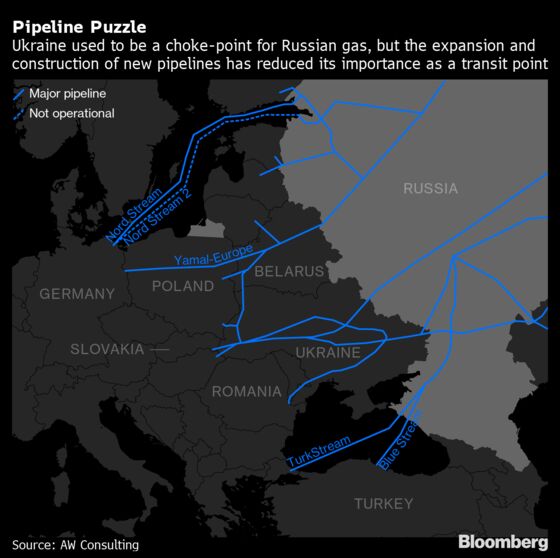 Meanwhile, gas traders responded to market signals.
Russian gas supplies through Ukraine jumped almost 38% on Thursday and are expected to increase further by about 24% on Friday, according to data from Ukraine's grid operator. Shipments into Germany via the key Yamal-Europe could also restart after being halted for more than two months, according to the results of pipeline auctions to deliver the fuel on Friday.
Gazprom said its supplies meet requests from European customers. Uniper SE, Eni Spa and Engie SA declined to comment on Russian gas orders. RWE AG said it wouldn't speculate on future developments in the market.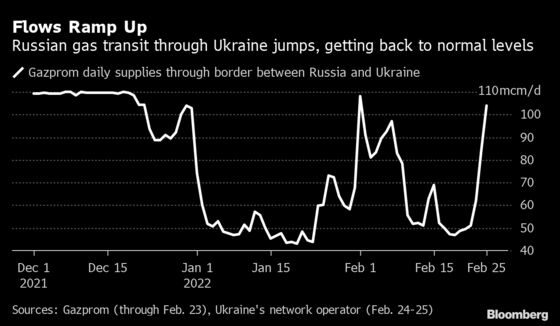 Before the invasion, Europe was already facing an energy crunch. Demand rebounded just as Gazprom curbed supplies, limiting sales in the spot market. The Russian gas giant also failed to fill its storage sites in Europe before the winter, leaving the continent grappling with the lowest stockpiles in at least a decade for most of the heating season.
Exports from Russia dropped even further this year, a move Gazprom said was due to lower requests from European clients. While Russian domestic demand was strong, production climbed to a three-year high. That allowed Russia to withdraw gas from storages at a much slower rate than energy-starved Europe.
But despite that Russian officials have always emphasized the country's history as a reliable supplier and said Gazprom has always met its contractual obligations. Ukraine's pipeline operator emphasized yesterday that it continued to transport Russian gas through its network.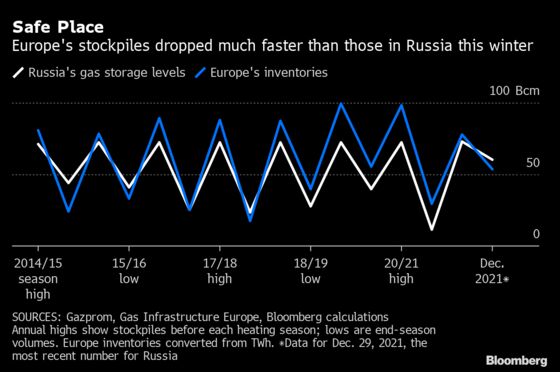 Russian gas shipments traveling via the Yamal-Europe link crossing Belarus and Poland could enter Germany for the first time since Dec. 21 later today. Some 16% of the pipeline capacity offered in auctions for delivery into the Mallnow compressor station starting at 2 p.m. on Friday was booked at auctions, a sign flows may increase. To be sure, pipeline space purchase can go unused. 
"I think gas will continue to flow to Europe via all export corridors, including the Ukrainian one" as long as no pipelines get damaged, said Katja Yafimava, a senior research fellow at the Oxford Institute for Energy Studies. 
Get Your
Daily Newsletter
Get market moving news, top news & compelling perspectives
---