Europe's Leveraged Borrowers Spice Up New Deals to Court Buyers
Europe's Leveraged Borrowers Spice Up New Deals to Court Buyers
(Bloomberg) -- Europe's leveraged loan market is starting to turn more expensive for some borrowers as investors get pickier amid the deluge of deals after its busiest year in more than a decade.
Software developer Cegid Group SASU and French flooring maker Tarkett SA both had to offer more than initially planned in order to pull lenders in, while deals for IT firm Clara.Net Holdings Ltd and food retailer Prosol SAS came at the wide end of initial price guidance.
Europe's leveraged loan market has seen a barrage of transactions, with borrowers raising 67.5 billion euros ($79.8 billion) in the first half, the most in at least 14 years, according to Bloomberg's European Leveraged Finance Chartbook. While the rush to market reflected benign conditions for borrowers, some issuers are now having to nudge pricing higher to attract buyers.
"We've been in a market that's been consistently tightening, and you end up in a point where investors need to think about their broader portfolio and their cost of capital," Susana Leith-Smith, Europe and Middle East head of Leveraged Finance at Barclays Plc, said in a telephone interview.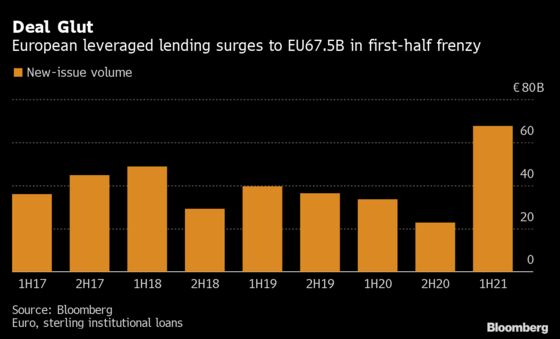 Funding costs have been increasing for managers of collateralized loan obligations, the largest buyers of loans. That's expected to weaken demand for new debt offerings and make buyers more selective about which credits they select from the glut of deals.
Loan Funds Eye Richer Pricing After Supply Onslaught: 1H Wrap
Some investors are also looking for lower-rated credits that carry attractive spreads to boost returns, leaving fund managers with less cash to buy loans in the BB bracket. Tarkett and Cegid's holding company are both rated BB- at S&P Global Ratings, three notches below investment grade.
Even though costs are going up on some loans, spreads still hovered at around their lowest since the start of the pandemic during the second quarter. That enabled borrowers to cut funding costs on nearly 10 billion euros of existing loans, according to data compiled by Bloomberg.