Euro Volatility Hits Record Low in Defiance of Market Theory
Euro Volatility Hits Record Low in Defiance of Market Theory
Expectations that volatility in the euro could stage a return this year are getting knocked back.
The cost of hedging price swings in the common currency in the medium- to long-term touched fresh record lows on Wednesday, even amid higher regional inflation expectations and bunds facing pressure for much of this month.
A decline in euro-area fixed income should in theory fuel demand for long volatility trades. Yet with the euro stuck in a tight range versus the dollar, volatility may remain suppressed until concrete evidence emerges that the European Central Bank will look to shift away from negative interest rates.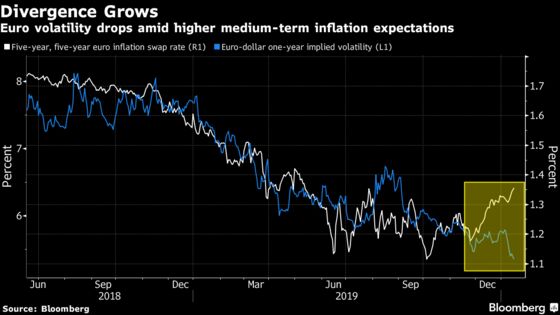 Volatility faced pressure last year amid U.S.-China trade tensions and concerns of a no-deal Brexit that kept most central banks from considering any tightening plans. While these risks have faded, Middle-East tensions at the start of 2020 suppressed demand for riskier currencies, keeping demand for gamma and vega exposure within familiar ranges.
Read more:
Bund Traders May Now Favor Options on Data Reality Check: BI
Mario Draghi Shackled Euro Volatility. He's Leaving With the Key
ECB Governing Council member Robert Holzmann has said that it's possible to see a rate change this year and that "it would be a mistake to make an exact chronological forecast." The damaging side effects of negative interest rates have been stressed by his colleagues in the past. Yet there is currently no strong evidence that President Christine Lagarde could soon follow into the footsteps of her peers at the Swedish central bank, who moved away from sub-zero rate territory in December.
Higher yields could see volatility move higher in front-end EUR rates, which could then translate to a parallel move for currency volatility.
What Bloomberg Intelligence Says
"The increase in five-year, five-year inflation swaps has helped drive the fair value of 10-year bund yields higher. A continuation of that trend, combined with improvement in PMIs, could see bund yields back in positive territory in the months ahead. The ECB can sit comfortable with core inflation edging higher while undertaking its strategic review. Front-end EUR rates gamma is poised to move higher in a rates sell-off."

-- Tanvir Sandhu, Chief Global Derivatives Strategist
Six-month euro-dollar volatility dropped on Wednesday to a record low of 4.78% while one-year also hits unprecedented lows at 5.36%.
NOTE: Vassilis Karamanis is an FX and rates strategist who writes for Bloomberg. The observations he makes are his own and are not intended as investment advice
To contact the reporter on this story: Vassilis Karamanis in Athens at vkaramanis1@bloomberg.net
To contact the editors responsible for this story: Dana El Baltaji at delbaltaji@bloomberg.net, William Shaw, Michael Hunter