EU to Sell 225 Billion Euros of Green Bonds to Fund Recovery
EU to Sell 225 Billion Euros of Green Bonds to Fund Recovery
The European Union will sell 225 billion euros ($267 billion) of green bonds as part of its pandemic recovery fund, in what will be a watershed moment for an expanding market.
The debt will make up about 30% of the EU's 750 billion euro rescue package, Commission President Ursula von der Leyen said in a key policy address on Wednesday. The bloc's offering will be equivalent to roughly all the green securities sold globally last year, likely making it the largest issuer, according to data compiled by Bloomberg.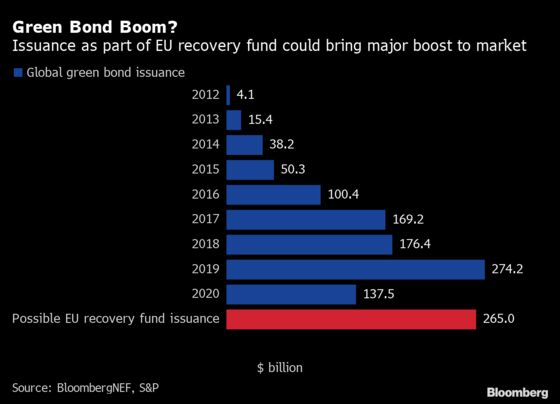 European nations have accelerated their green bond plans this year, with Germany issuing its first securities earlier this month. France is currently the largest government issuer globally. Still, there is no uniform standard within the EU for green bonds.
"It will undoubtedly bolster the green debt market," said Gregor Vulturius, head of operations and engagement at the Stockholm Sustainable Finance Centre. "This could apply pressure on other countries and regions to follow the EU's example."
Green bonds are just one aspect of a financial transition toward lower-carbon economies. It comes as the EU proposed stricter climate goals under von der Leyen's Presidency, tightening its emission-reduction target to at least 55% by 2030. That compares with the current target of a 40% cut from 1990 levels.
"I will ensure that it also takes green financing to the next level," said von der Leyen. "We are world leaders in green finance and the largest issuer of green bonds worldwide."
The plan to sell green debt as part of the recovery package was first reported by Bloomberg.