EU Court Puts Onus on Polish Courts to Solve Forex Mortgage Fights
EU Court Puts Onus on Polish Courts to Solve Forex Mortgage Fights
(Bloomberg) -- The European Union's top court said it was up to Polish judges to resolve lawsuits over the country's $31 billion pile of foreign-currency mortgages, sending bank valuations sharply higher.
Analysts saw Thursday's ruling by the EU Court of Justice as causing no further harm to lenders' legal position in disputes with clients, boosting Warsaw's WIGBank index to a 13-month high. The Polish bank association, an industry lobby group, said the verdict was "positive," while MBank SA Chief Executive Officer Cezary Stypulkowski called it "encouraging."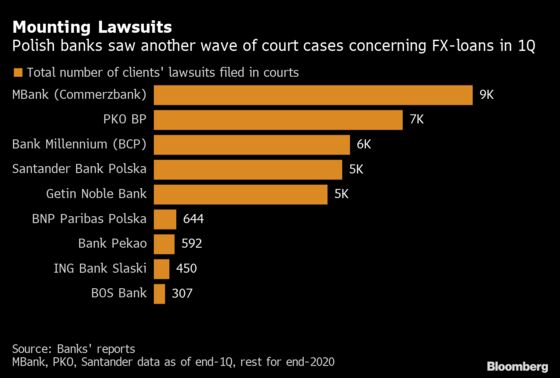 Lenders, including local units of Commerzbank AG and Banco Santander SA, have been piling up write-offs for legal risks amid a flurry of lost lawsuits over the mostly Swiss franc-denominated loans. The verdict puts the onus back on Polish courts, including next month's opinion by the Supreme Court, and may help push banks toward resolving the issue by offering out-of-court settlements to borrowers.
"This verdict creates good conditions to proceed with settlements," Tadeusz Bialek, a deputy director of the bank association, told reporters. "The Supreme Court's view will also be important in clearing up the whole legal ecosystem."
The key issue that the EU passed to Polish tribunals is whether lenders can counter-sue for damages, such as years of lost interest and frozen capital, after having their loans annulled by local courts. Effectively, the Luxembourg-based court "kicked the can forward," said Michal Sobolewski, an analyst at BOS Bank SA.
"The judgment is a repetition of what we have already seen, extended by a clear delegation in key cases to national courts," said Kamil Stolarski, an analyst at Bank Santander Polska SA. "The EU court emphasizes that abusive clauses must be removed, but may be replaced, with the consumer's consent."
The EU court said that under the bloc's rules, it's for Polish courts to determine if "a contract concluded between a seller or supplier and a consumer is unfair, even if it has been contractually amended by those parties."
A landmark 2019 ruling by the EU court led to Polish banks being sued in more than 30,000 Swiss loan cases last year alone. Borrowers have won more than 90% of such cases, pushing Warsaw-listed banks to set aside more than 6.8 billion zloty ($1.8 billion) in provisions for potential defeats.
Banks have been using the threat of counter suits against clients as a way to slow a flood of litigation over non-zloty mortgages. Barbara Garlacz, a lawyer representing the borrowers in the EU court case, said: "Mortgage holders expected clear answers, and now they will need to wait to hear what the Supreme Court says."
The WIGBank Index rose 5.1% by 2:09 p.m. in Warsaw, led by MBank and PKO Bank Polski SA. The gauge has gained 25% this year after a 30% decline in 2020, when lenders took hits from interest rate cuts, the pandemic-stoked recession as well as mounting lawsuits. The industry's profit shrank 44% to 7.8 billion zloty last year.
The outlook is far from rosy, however, as banks face a costly process of out-of-court settlements, which could cost them 34.5 billion zloty, according to the financial regulator. Relying on the courts, however, could be twice as costly, the watchdog said.
So far, only PKO decided to offer settlements and plans to start the deals in June after setting aside 6.7 billion zloty. Other lenders, including MBank and Santander, are in favor of the process, but not willing to pull the trigger before the Supreme Court gives its most thorough opinion yet on the issue on May 11.
At the heart of the disputes is what once seemed like a smart piece of financial engineering to boost mortgage sales before the 2008 financial crisis emerged.
Assuming that the zloty would indefinitely maintain its value-increasing run, mortgage holders were offered home loans indexed to the Swiss franc, with the benefit of lower interest rates than mortgages in the local currency.
When markets turned, the equation no longer worked. Polish borrowers sued for refunds after the depreciation of the zloty boosted the value of their loans, often to more than that of the property.
Thursday's decision follows new questions from a judge in Gdansk, in a case involving General Electric Co.'s Polish banking unit.
The case is: C-19/20, Bank BPH.