Estee Lauder Says Duty-Free Sales in China Are Bouncing Back
(Bloomberg) -- Estee Lauder Cos. sees a revival in China's tourism -- a promising sign in a critical growth market for international brands.
Chief Executive Officer Fabrizio Freda said Monday that Chinese travel stores -- the type seen in airports and train stations -- were a "stand-out performer" in the company's most recent quarter, posting double-digit growth. Global travel sales, meanwhile, were flat from a year earlier.
"Demand from the Chinese consumer was very strong," Freda said on a conference call with analysts, citing the reopening of more travel corridors in Asia and robust online sales.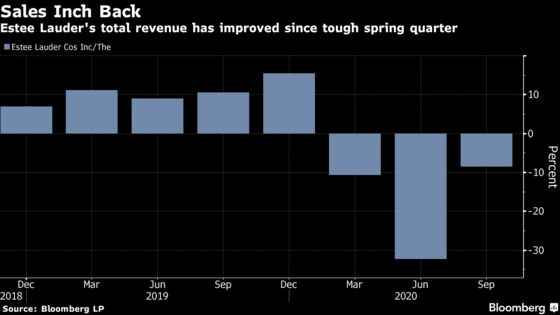 Travel retail, including duty-free, was red-hot before the pandemic as brands expanded their sales to tourists traveling abroad -- especially from countries like China. Luxury labels from fragrance and cosmetics to winter apparel turned transit centers into a key source of growth.
Estee Lauder shares surged as much as 8.3% to $237.82 in New York trading on Monday, touching a record high. They were trading up 1.8% as of 1:07 p.m. in New York.
Travelers are flocking to duty-free shops on Hainan Island, a southern province known for its beach resorts, with domestic visits reaching 80% of pre-Covid levels, Freda said. New policies boosted purchase limits for shoppers more than threefold in July, as the Chinese government seeks to turn the area into a commercial hub.
Executives said domestic travel is ramping up significantly across the region, with strong travel sales in Hong Kong and Macau, especially for skin-care goods. Sales in South Korea improved too, rising at a high-single digit percentage.
Outside Asia, shopping at travel stores remains stagnant. Tourism in North America is still weak and Europe is seeing a resurgence in virus cases, leading to new lockdowns.
"Travel retail has never picked up in Europe," Chief Financial Officer Tracey Travis said in an interview. "There's not a lot going on right now. All of travel, for the most part, is Asia."
The improvements across Asia are a welcome sight for Estee Lauder and its cosmetics rivals such as L'Oreal SA and Shiseido Co. Makeup sales have taken a hit during the outbreak, with people seeing little reason to wear lipstick and foundation under face masks. In the most recent quarter, all but one of Estee Lauder's makeup brands had sales declines. Strong skin-care sales for labels like La Mer have been able to partially offset that.
Net sales fell 9% for the first quarter ended Sept. 30, after excluding currency impact. Estee Lauder doesn't yet expect a return to growth, forecasting a 3% to 5% drop in net sales for the next quarter.