Egypt's Stock Exchange to Start Short Selling by Year's End
Egypt's Stock Exchange to Start Short Selling by Year's End
(Bloomberg) -- Egypt's stock exchange aims to introduce short selling by December, part of a broader effort to boost liquidity in a market that's also anticipating a wave of initial public offerings and stake sales by public-sector companies.
"Before the end of the year we are going to see short selling up and running and being implemented," Mohamed Farid, the chairman of the Egyptian Exchange, said in an interview with Bloomberg Television. "We are talking about a complete securities borrowing and lending mechanism associated or coupled with short selling."
All technological requirements have been fulfilled and 25 to 30 brokers are registered to operate shorting, he said on Tuesday in London. Several exchanges in the Middle East, including those of Saudi Arabia and Abu Dhabi, have introduced the mechanism in the past few years, but liquidity is still low. Companies on the Egyptian exchange have $51 billion in combined market value.
By allowing short selling -- the sale of a borrowed security in the hope of buying it back at a lower price -- the exchange should generate more trading and thus better price discovery for stocks. The practice is controversial, though: Some companies and regulators decry it as manipulation when short sellers go public with a case for why a stock price should be lower, and officials have restricted the practice in declining markets as a means of stabilizing prices.
There were hopes in Cairo that the government would move forward with a plan to list or sell additional stakes in more than 20 state-run companies this year, part of a broader program to overhaul the country's economy. Farid said that at least three companies that had planned initial public offerings by December now have decided to delay them to next year.
In July, he had flagged that three IPOs for minority stakes in Egyptian companies were likely to happen by year-end, as well as two secondary offerings.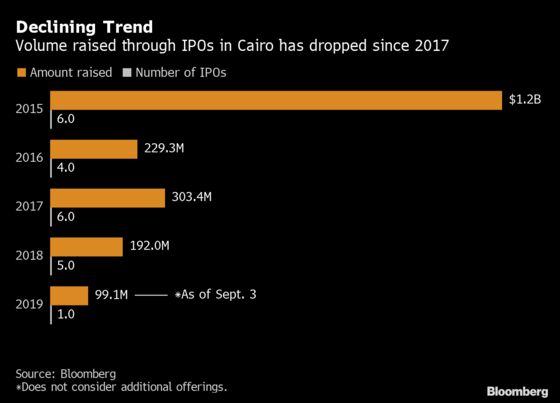 Egypt's benchmark EGX 30 Index is up 15% in local-currency terms and 25% in dollars this year. The gauge jumped in August by the most since March 2018 as the central bank cut interest rates amid slowing inflation.
Here's more from Farid's interview:
Companies from sectors including technology, education and health care have attracted appetite from investors for new offerings.
When it comes to IPOs of government-controlled stakes, the financial sector "is taking the lead."
One company could still move forward with an offering this year, he said, without providing details.
--With assistance from Telma Marotto and Yasmina Daou.
To contact the reporters on this story: Filipe Pacheco in Dubai at fpacheco4@bloomberg.net;Annmarie Hordern in London at ahordern1@bloomberg.net;Tarek El-Tablawy in Cairo at teltablawy@bloomberg.net
To contact the editors responsible for this story: Celeste Perri at cperri@bloomberg.net, Phil Serafino