French Power Prices Gain on Signs of Corrosion at More Reactors
(Bloomberg) -- French power futures rose to their highest level this year after Electricite de France SA found further indications of corrosion on its nuclear fleet, potentially worsening Europe's supply crisis. 
French nuclear capacity is already at its lowest in a decade for this time of year as the energy giant is keeping some of its 56 reactors offline for lengthy checks and repairs, on top of planned maintenance and refueling. EDF has said it doesn't expect a material rebound in output next year either.
French power for 2023 rose 1.5% to 236 euros per megawatt-hour in thin trading on the European Energy Exchange AG. The German equivalent contract advanced as much 3%. 
Traders are pricing in that the French nuclear problems are going to last beyond this year and ''likely into the year after," said Emeric de Vigan, chief executive officer at French energy analysis firm COR-e. As France used to be a large exporter, the impact will be felt across the European market, he said. 
French Nuclear Availability Drops to 54% as Units Halt
The state-controlled utility has previously said its nuclear output will fall to the lowest in more than three decades this year.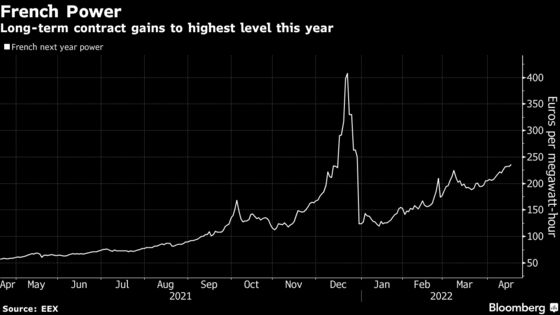 One of the main questions is how many more nuclear outages safety authority ASN will force EDF to do in 2022 how many of them can be pushed back to 2023 "given the extraordinarily tight supply/demand and the geopolitical context," JPMorgan Chase & Co. said in a note on Wednesday. 
Signs of corrosion were found in pipings of the Chinon-3, Cattenom-3 and Flamanville-2 reactors, three of the six units that EDF had decided to check in February, EDF said in a statement posted on its website last week. Indications of corrosion have also been found at the Golfech-1 unit during a planned maintenance halt, and deeper checks will be carried out, the utility said.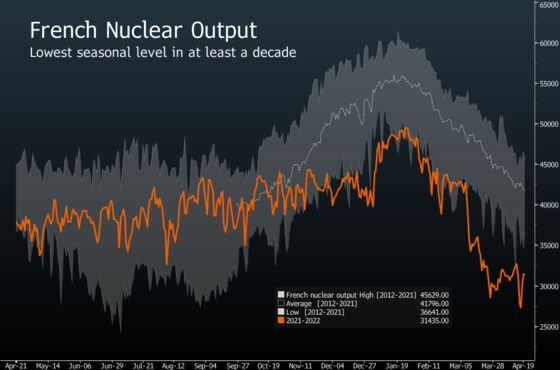 Plunging nuclear production, combined with government measures to cap power prices to protect consumers and companies, will deprive EDF of 26.2 billion euros ($28.3 billion) in earnings this year as the utility needs to buy back power on the wholesale market, the company estimated last month.
News of the issues first emerged in December and January, when EDF said two reactors in Civaux, two in Chooz, and one in Penly needed to be halted for checks and repairs.     
The company is continuing talks with ASN on ways to tackle the problem, while it carries out further checks on its fleet of reactors during planned maintenance and refueling halts through 2024.