ECB Says Just 15% of Banks Disclose Financed CO2 Emissions
ECB Says Banks Still Need to Make Progress on Climate Disclosure
(Bloomberg) -- The European Central Bank is pushing lenders to disclose more information on the climate and environmental risks they face after finding that just 15% publish data on the emissions they finance.
The ECB has told banks "to take decisive action," saying on Monday that only around half of institutions release relevant performance or risk data. The watchdog expects to see "major progress" by year-end, according to a top official.
European authorities are leaning on banks to prepare for potential losses from extreme weather or costs from polluting companies going out of business. This year, the ECB is taking the most detailed look yet at climate risks on lenders' balance sheets and says exposed banks will eventually face a higher bar for financial reserves, potentially weighing on shareholder dividends. 
The watchdog reiterated in a statement that it is "gradually" integrating climate risk into how it supervises lenders and that they will "ultimately" affect the capital requirements it set for individual banks.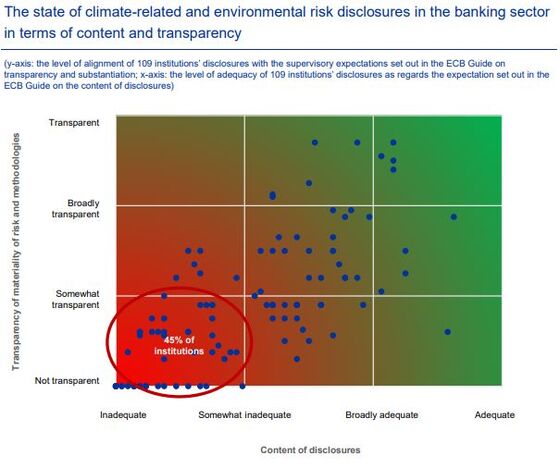 At the same time, lenders are just beginning to tally the extent to which the activities they fund cause global warming. Earlier this month Deutsche Bank AG made its first-ever disclosure of financed emissions, though that report still excluded the broadest carbon-emission impact, or so-called Scope 3. 
"There is very little justification for this lack of substantial progress," Frank Elderson, the deputy chair of the ECB's supervisory board, said in a speech on Monday. "The sheer speed at which regulation and metrics are developing in this field should leave no room for any doubt: addressing climate-related and environmental risks, and publishing good-quality disclosures, is not optional."
Banks will be obliged to disclose climate-related information starting in early 2023 when rules from the European Banking Authority, which coordinates regulation in the region, take effect.
The ECB did cite some progress in the industry, saying more than 70% of banks now explain how their board oversees climate and environmental issues, up from just over 50% in 2020. Still, 75% of banks don't tell the public whether such risks have a "material impact on their risk profile," even though half of those have told the ECB that they consider themselves to be exposed, according to the watchdog.