ECB's Guindos Sees No Need to Bolster Stimulus Immediately
(Bloomberg) -- European Central Bank Vice President Luis de Guindos said there's no need to bolster emergency bond purchases right now, playing down the prospect of action to head off risks to the euro zone's recovery from the pandemic.
His comments suggests the Governing Council is unlikely to increase or extend the 1.35 trillion-euro ($1.6 trillion) program at the next policy meeting in late October.
"If necessary, we could adjust and recalibrate it in the future," Guindos said in an interview with Market News published on the ECB's website. "We have not taken that decision yet. And, in my opinion, it's not necessary for us to take it immediately."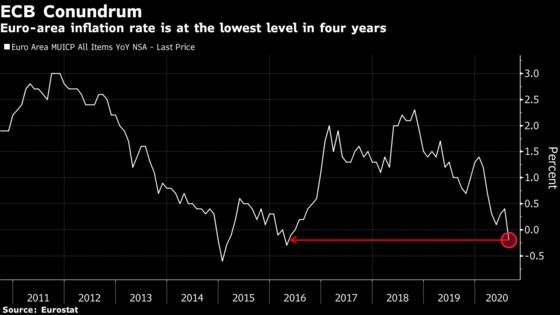 Economists predict the program will be increased by 350 billion euros this year -- most likely in December when new economic projections are announced.
The lack of urgency from Guindos contrasts with recent remarks from his colleague Fabio Panetta, who last month argued the case for erring on the side of providing more stimulus rather than being "too shy."
Recent data have been mixed. Surging coronavirus infections in some parts of the bloc have raised the prospect of more of the social and workplace restrictions that this year plunged the economy into its worst-ever recession.
At the same time, a report Thursday showed manufacturing in the euro zone expanding at the fastest pace in more than two years thanks to a strong upturn in Germany, with a sharp pickup in trade.
Read more...
ECB's Overnight Funding Rate Falls to Record Low Amid Cash Glut
Guindos said policy makers aren't having a discussion about adjusting their emergency program "right now," but that they will at some point.
"It will come, but when exactly depends on the evolution of the pandemic, on the evolution of the economy, on the projections, on inflation, and on the situation in financial markets," he said. "We are putting a lot of emphasis on avoiding a tightening of financial conditions."
Inflation -- the ECB's main policy yardstick -- is expected to be negative or very close to zero for the rest of the year.
Guindos also dismissed a recent report that the ECB is considering transferring some of the elements of its emergency program to its older quantitative-easing plan.
"We haven't discussed that potential situation in the Governing Council," he said.