ECB Funding Fix Will Likely Ease Costs to Pre-Virus Levels
ECB Funding Fix Will Likely Push Costs Down to Pre-Virus Levels
(Bloomberg) -- Funding costs in Europe have probably been given the tonic they need to keep easing from the highest level since 2016.
The European Central Bank's plan to pump a deluge of cash into the euro area's banks extended the three-month Euribor easing run to the longest since January as the region's markets returned from a long weekend.
It's a relief for borrowers, who saw the three-month Euribor rate rise 30 basis points in a little over a month despite ECB attempts to boost lending, as companies raced to cushion their coffers in the face of unexpected losses inflicted by the virus crisis.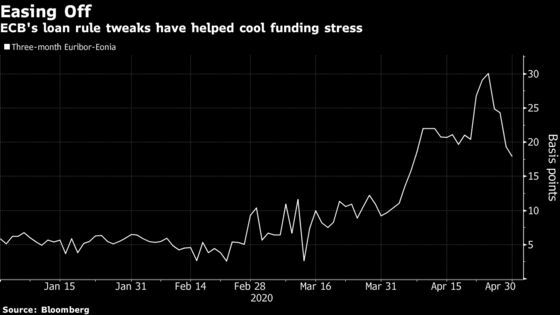 The ECB's latest measures, however, may have put Euribor on track for a drop to minus 0.4%, according to Commerzbank AG's Christoph Rieger.
It's "money for nothing," said the Frankfurt-based head of fixed-rate strategy.
The ECB last week cut rates on its long-term, low-interest loans called TLTROs, and introduced a shorter-term facility as part of a roster of money supply for banks to tap. The aim is to take the stress out of the euro area's funding markets, and to give banks incentives to lend more, buoying businesses as they struggle through one of the steepest economic downturns in history.
"I had thought the June TLTRO would be huge before today's changes, and the changes add weight to this view," Rieger said.
The Euribor rate dropped over one basis point to minus 0.286% on Monday, extending its falling streak to a sixth day.
Among the few who still think funding costs may rise in the short term is Camille de Courcel, the head of European rates strategy at BNP Paribas.
Shorter-term loans known as PELTROs will only be made available on May 19, and don't provide a favorable enough rate to guarantee borrowing appetite from banks, she said. The facilities have higher rates than TLTROs, though they are still negative.
"Until June and the next TLTRO-III operation, what has changed though? In our view, not much," she wrote in a note to clients.
Interest-rate futures suggest otherwise. They extended their rising streak to a seventh day on Monday, a sign borrowing costs may fall. The three-month Euribor rate retreated from the highest level in four years after the ECB said it would accept some junk-rated debt as collateral for loans to banks.
Read More:
Euribor Stress Fades as ECB's Liquidity Bonanza Comes Into View: BI
Euro-Area Funding Gauge Eases Most in Six Years: Liquidity Watch
The ECB's move on Thursday essentially deepens a two-tier system, in which banks can borrow at a rate lower than the ECB's already negative deposit rate.
That could provide a net transfer to the financial sector of as much as 3 billion euros ($3.3 billion), bolstering their own financial health and giving them the confidence to lend, according to Banque Pictet & CIE's Frederik Ducrozet.
And if that's not enough to bring funding costs down, the central bank can simply cut rates further to minus 2% or lower, "strengthening the incentives for banks to pass on the generous conditions to their customers, maybe even to re-price existing loans," Ducrozet said in an email.
"In the end, this could just be another step toward helicopter money à la ECB."