Trump Plans to Build 2,300 Luxury Homes at His Miami Resort
Donald Trump Is Planning to Build Luxury Homes at Miami Resort
(Bloomberg) -- Donald Trump is planning a significant expansion of his Trump National Doral Miami resort, which is located in one of the hottest real estate markets in the country.
The former president said in a statement that he plans to apply to create 2,300 luxury homes as well as retail and commercial space in the first phase of construction at Trump National Doral. He added that he "just spent millions of dollars" on the resort's Blue Monster golf course. 
Doral, which Trump bought out of bankruptcy in 2012, includes four golf courses and a luxury hotel. For years, it was one of the Trump Organization's biggest revenue generators, but the Covid-19 pandemic initially led to closures and furloughs. 
The resort has millions in loans coming due that Trump himself has guaranteed, but Florida has been largely open during the pandemic. The luxury market in South Florida has soared as finance and tech workers relocate from higher-tax states.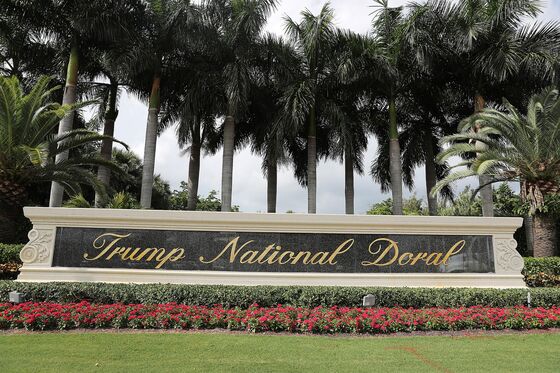 Until recently, Trump had been relatively quiet on the business front since leaving office, instead devoting his time to Republican politics. Large swathes of Wall Street and corporate America had also sought to distance themselves from doing business with him after last year's riot at the Capitol, and he's been kicked off social media. 
In recent months, though, the Trump Organization has neared a deal to sell the rights to its Washington hotel in a transaction that could bring more than $370 million.  
More significantly, he's formed a media company that is merging with Digital World Acquisition Corp., a blank-check company. The firms in December raised $1 billion in PIPE funding from a group of unnamed investors and he intends to challenge "Big Tech."
Trump's net worth, estimated at $2.6 billion by the Bloomberg Billionaires Index, could rise significantly if the deal is completed. 
A representative for the Trump Organization didn't immediately respond to a request for comment outside of business hours.
The Doral was consistently pulling in more than $70 million a year while Trump was in office and before the pandemic affected travel, according to his financial disclosures as president. That dropped to less than $50 million in 2020.
That decline wasn't strictly related to Covid's impact, according to news reports. During the presidency, a tax consultant for the Trump Organization advocated to a Miami-Dade County official that Doral's tax bill be lowered because it was "severely underperforming" other area resorts, according to a 2019 story by the Washington Post. The consultant, Jessica Vachiratevanurak, cited "some negative connotation that is associated with the brand," the Post reported.
Eric Trump, the former president's son and executive vice president of the Trump Organization, disputed that characterization.
"Doral is probably the most valuable property in South Florida," Eric Trump told Bloomberg in 2021. "It's 700 acres in Miami and that is invaluable."