Dollar's Once-Solid Link to Bond Yields Is Breaking Down
(Bloomberg) -- The dollar is starting to decouple from the Treasury yields that it tracked so closely last year, adding to signs that the bulk of the currency's windfall from higher rates has already passed. 
Two-year U.S. yields surpassed 0.94% on Tuesday, hitting levels last seen before the pandemic, as money markets moved toward pricing in four rate increases from the Federal Reserve this year. Yet the Bloomberg Dollar Spot Index has failed to budge much above a six-week low seen at the end of 2021.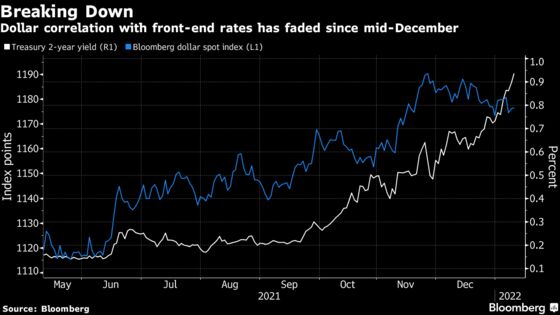 The contrast affirms investor views that while the greenback has scope to climb this year, it has already benefited substantially from traders who started front-running a hawkish Fed in the last few months of 2021, taking the Bloomberg dollar index to an annual gain of close to 5%, its biggest since 2015. Once the U.S. central bank raises borrowing costs and rolls bonds off its balance sheet, the dollar's gains are widely expected to moderate into the second half of 2022.
Part of the reason for the subdued move in the dollar is that traders are front-loading hikes for other central banks, which diminishes the dollar's relative advantage on the rates side, according to Valentin Marinov, head of G-10 FX strategy at Credit Agricole.
"For the USD to rally, we need market expectations for 2023 and 2024 to move even closer to the levels implied by the December dot plot," he said. 
Another explanation for the dollar lagging behind moves in yields is that positioning is already so long on the dollar and short on everything else, he said. The long-dollar bet has been one of the most popular currency trades heading into the new year, as leveraged funds' net long positioning in the dollar stands at its strongest since May 2019. 
Demand has been waning for options that would make money if the greenback climbs, according to volatility skew data compiled by Bloomberg. U.S. inflation data due Wednesday could be a key point for the currency's short-term direction.