Dollar 'Fire Power' Boosts Naira Fight: Decision Guide
Economists are predicting Nigeria's central bank will announce measures to stem the steady decline of the naira in the unauthorized market, even as it keeps the policy rate unchanged for a sixth straight meeting. 
With inflation steady, the Central Bank of Nigeria will keep the rate at 11.5% on Friday, according to all eight analysts surveyed by Bloomberg. Investors and companies will focus on the steps the regulator takes to bolster dollar supply, economists including Samir Gadio from Standard Chartered Plc said. The naira weakened Thursday to record low of 570 per dollar in the illegal market, data published by online platform abokiFX shows. It also closed at a new low of  413.07 naira per dollar at the official window reserved for investors and exporters that need the greenback. The currency has weakened 13% since the last monetary policy meeting. 
The International Monetary Fund's allocation of special drawing rights and Nigeria's plan to raise as much as $6.1 billion from overseas gives the central bank "fire power" to boost supply in the official market, said Gadio. Still, the regulator's move to choke the illegal market -- by banning sales to money traders and reprimanding people who profit from arbitrage opportunities -- hasn't helped, increasing costs for companies.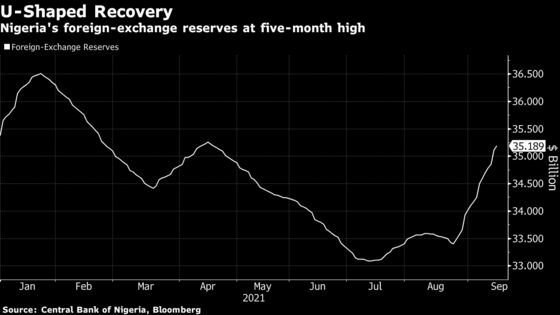 Africa's largest crude producer has devalued its currency thrice since March last year after lower oil prices put pressure on dollar reserves. The central bank rationed supply of the greenback, forcing individuals and firms to turn to unauthorized dealers to meet their needs.
"There are plans to boost dollar liquidity within the next few months," said Olumide Adesina, a market research analyst at Johannesburg-based SA Shares. "There is also growing expectation that the Nigerian central bank will continue to restore stability in the currency market through direct interventions. However, price volatility will remain in the short run."
Nigeria has multiple exchange rates. Since early this year, the central bank has been trying to reduce the number of rates.
Central Bank of Nigeria's currency moves:
May: Merged rate for government transactions with market-determined rate for investors and exporters
July: Stopped auctioning dollars to money changers
September: Tries to stop dollar arbitrage with name and shame rules

Plans to investigate foreign-exchange transactions of lenders
"There is a whole lot of pressure to invest in foreign assets because of what is happening to the naira," said Mosope Arubayi, an economist at IC Asset Managers in Lagos. The central bank should learn that the restrictions are stopping people from accessing the official window for their legitimate transactions, she said.