Digital-Health Investment Boom Speeds Ahead With First-Half Jump
Digital-Health Investment Boom Speeds Ahead With First-Half Jump
(Bloomberg) -- Investment in digital-health companies continued to smash records with $14.7 billion pumped into the U.S. sector in the first half of the year, already more than in all of 2020.
The first two quarters of the year were the biggest ever for the country's digital-health funding, according to a report from Rock Health. Almost 60% of the funding from 372 investments made so far were for $100 million or more, the report said.
Virtual health-care visits skyrocketed during the Covid-19 pandemic, with the rate of Americans who reported at least one telehealth appointment tripling to 60% by March from last year, according to a survey by marketing firm Sykes Enterprises Inc. Even as Covid-19 wanes in many regions and in-person health services reopen, investors are continuing to pour funds into digital health.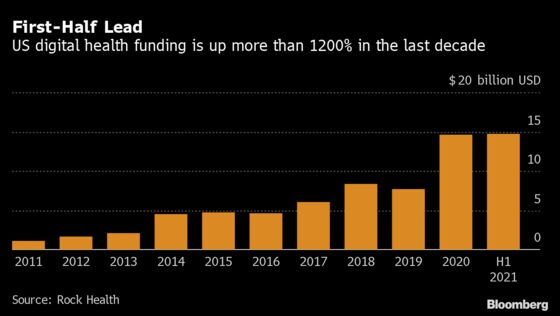 "The pandemic accelerated the rate at which consumers use digital-health solutions, and investors have followed in behind with increased funding," said Bill Evans, chief executive officer of Rock Health.
Digital health offerings include services such as remote connections to doctors and nurses via smartphone, internet pharmacies and access to medical records. The pandemic accentuated interested in the field, which has been attracting increasing attention every, Evans said. Ten years ago, funding totaled $1.1 billion, which was roughly the amount raised in two weeks of 2021.
Noom Inc., which offers a behavioral weight loss app, raked in $540 million this year, while online pharmacy Ro raised $500 million. Some companies are using the funds from large funding rounds to acquire smaller, complementary firms, Evans said.
"It's a natural thing for companies to do –– there's a sizable cohort of companies founded in an earlier era that have built products that might fit better on a larger commercial platform," he said.
Some customers have reportedly begun to feel overwhelmed by the variety of digital health offerings, feeding a rise in mergers and acquisitions among companies consolidating services. Big tech is in on it, too, as giants like Google and Microsoft Corp. continue adding digital-health services to their massive platforms.
Most big companies seeking to integrate digital health, like CVS Health Corp. and Walmart Inc., are looking to partner with or acquire existing companies rather than trying to innovate from within, Evans said.
"I don't think that's going to fade away," he said. "They're going to continue to look for ways to capitalize on these investment trends."
Exits via capital markets rose to 11 so far this year, compared to seven in all of 2020. While investors are excited by the increased pace, many are especially cautious of early-stage companies with high valuations, Evans said.
"Companies that raise too much too quickly, or at too high a valuation, risk limiting their access to capital when that happens," he said.