Dick's Soars as Sporting Goods Demand Prompts Forecast Boost
Dick's Soars as Sporting Goods Demand Prompts Forecast Boost
(Bloomberg) -- Dick's Sporting Goods Inc. jumped the most in almost three months after the retail chain blew past Wall Street's earnings expectations and raised its full-year forecast, fueled by demand for athletic goods during the pandemic.
Adjusted profit will be $12.45 to $12.95 a share this year, Dick's said Wednesday in a statement as it detailed second-quarter results, well above the forecast provided in May that called for no more than $8.70. Analysts predicted $8.95 a share, according to the average of estimates compiled by Bloomberg. Comparable sales will increase as much as 20% this year, Dick's said.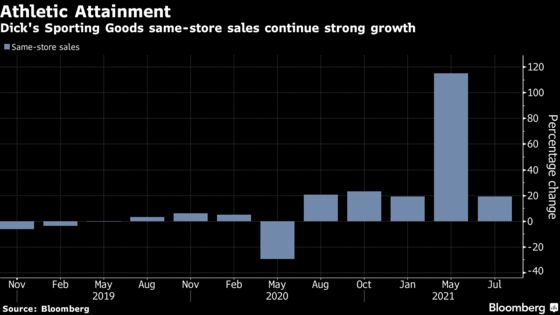 The revision reflects heightened demand as the pandemic has hurt traditional gyms and forced many Americans to instead work out at home. Sporting goods retailers have also benefited from higher sales of athletic-wear and the return of team sports after a pause last year.
Dick's comparable sales in the period ended July 31 rose about 19%, handily beating the average analyst estimate of about 5.5%. Adjusted earnings were $5.08 a share, compared with analysts' expectations of $2.72.
The shares soared 17% at 9:34 a.m. in New York, the biggest intraday gain since May. Dick's stock more than doubled this year through Tuesday's close.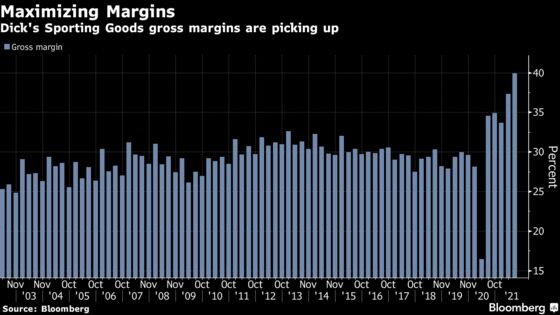 Investors' reaction to Dick's earnings contrasts with the responses to recent reports from Nordstrom Inc. and Urban Outfitters Inc. and signals that the pandemic divide in retail remains in effect even as consumer behavior starts to normalize. Spending has shifted away from apparel and fashion-focused retailers and into areas like groceries, home improvement and sporting goods.