Deutsche Bank Traders, Barclays Bankers Drive Banner First Half
Deutsche Bank Traders, Barclays Bankers Drive Banner First Half
(Bloomberg) -- The once-unloved investment banks of Deutsche Bank AG and Barclays Plc are firmly taking center stage in their rebounds.
The German lender's fixed-income traders had their best showing relative to rivals in almost four years as it reported second-quarter results Wednesday. At Barclays, record investment banking fees contributed to a surge in first-half profit.
As a pandemic-driven boom to market volatility and deal volumes continues, European firms are snatching back some of the market share they had lost to U.S. rivals in previous years. That's despite Chief Executive Officer Christian Sewing's earlier plans to cut back the Deutsche Bank unit and an unsuccessful push by a Barclays shareholder to enact similar cuts at the British lender.
If anything, the investment banking divisions are becoming more important as other units face persistent low interest rates amid uncertainty about whether Covid variants will delay an economic rebound.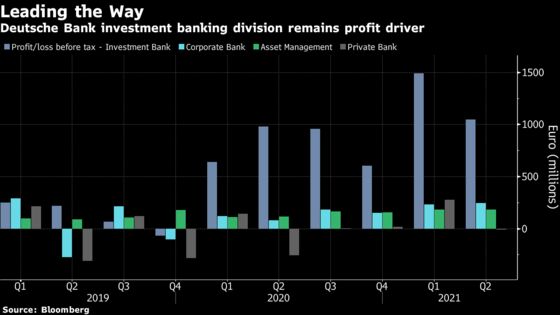 At the German lender, the investment bank brought in 38% of the group's revenue in the second quarter while Barclays' securities unit contributed more than half of the group's total income.
Deutsche Bank's fixed-income division made up almost three quarters of the unit's revenue, posting a smaller-than-expected decline in trading that beat analysts' estimates as well as some of Wall Street's biggest investment banks. It meant Deutsche Bank posted its highest share of fixed-income trading revenue since 2017, among the eight global investment banks that have reported second-quarter results so far.
"Deutsche Bank's outperforming investment bank is fueling its progress against Sewing's plan," said Bloomberg Intelligence analyst Alison Williams.
Barclays' traders more closely mirrored their U.S. rivals, with fixed-income revenue falling 39% from last year's second quarter, compared to a 43% drop at the biggest U.S. investment banks. Its dealmakers enjoyed a banner quarter with income from capital markets and merger advisory at the London-based lender up almost a fifth to 873 million pounds while equities increased 15%, the best-ever second quarter.
"Our investment banking fees and equities businesses have delivered record income," Barclays CEO Jes Staley said in the earnings statement. "This has been a strong first half, clearly demonstrating the benefits of our resilient and diversified universal bank."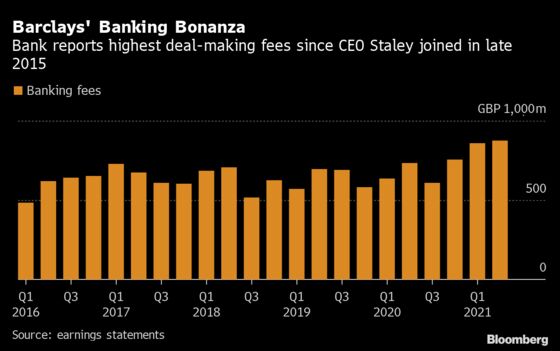 For Sewing, the trading performance has upended an earlier strategy focused on cutting back trading and expanding lending. For Staley, it is a vindication of his decision to back the corporate and investment bank as a hedge during times of economic crisis in the face of a three-year campaign by activist investor Edward Bramson to streamline the unit.
That's not to say shareholders are giving the securities units all the credit.
At Barclays, an improving economic outlook drove the release of a net 797 million pounds from last year's provisions for loans, bolstering its bottom line, and enabling it to announce a share buyback and higher than expected dividend. Deutsche Bank similarly set aside much less money to provide for potential credit losses while it continued to accrue for its first dividend payment in years, slated for next year.
That helped push Barclays shares up as high as 5.5%. Deutsche Bank shares were down slightly after initially rising as much as 4.5%.
There's still areas of concern around the investment bank units. Investors remain wary of costs spiraling higher as increased business volumes feed through into higher pay for bankers, while Credit Suisse Group AG's recent travails are a reminder of the risks such business brings. Some question whether European firms have the scale and resources to truly compete with Wall Street's biggest firms.
Cooling markets may also see performance slip. Barclays Chief Financial Officer Tushar Morzaria cautioned on a call with analysts that "typically the performance of the corporate and investment bank is stronger in the first part of the year and not as strong in the second part."
But for now, calls to shrink these once-unfashionable divisions have quietened with both lenders using the results to reiterate their importance.
"The investment bank continued to benefit from our refocused business model, with another strong quarter of performance in FIC," Sewing said in prepared remarks, saying the unit's performance along with a better outlook for some smaller segments gave him confidence to upgrade the revenue outlook for next year."
And Staley made clear on a call with journalists that he had no intention of deviating from his focus on the investment bank.
"We feel good about the strategy," he said on the call. "It generated the results we hoped for."