Desk Salads Hit by Worst Inflation in U.S. With Romaine Prices Up 61%
Desk Salads Hit By Worst Inflation in U.S. With Romaine Prices Up 61%
(Bloomberg) -- There isn't enough romaine lettuce for salads in the U.S. and it's all due to the chaos created by the pandemic.
Demand has been unpredictable with the Covid-19 virus changing consumer behavior and eating patterns, and produce farmers have sustained heavy financial losses since the pandemic started given the volatility. As a result, growers are purposely planting less so they're not stuck with excess lettuce that's getting more and more expensive to grow and ship.
"If farmers are on the wrong side of the demand curve, they're screwed," said Barry Friends, partner at foodservice consultancy Pentallect Inc. "If I've got to plow it under or dump it on the market for cheap, I have no desire to lose that money. I'm just not going to grow it."
Fast forward to harvest time. Now, there isn't enough romaine to go around, and demand is exceeding supply. Retail prices for lettuce are soaring more than any other food item tracked by the U.S. government, including meat. Romaine prices are up even more than gasoline. It all points to more expensive salads and higher costs for restaurants like Sweetgreen Inc. and Mexican restaurant chain Chuy's Holdings Inc.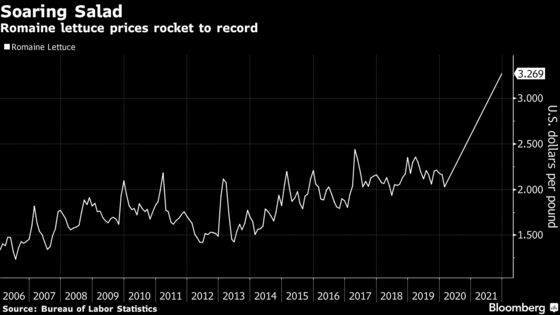 The cost of food has been on the rise because of supply chain and logistics snarls, and it's getting more expensive to produce. The latest government data shows consumer prices for everything from eggs to coffee to chicken on the rise. Romaine lettuce is up 61% from last year to $3.27 a pound, the highest in data going back to 2006, while ground beef is up 17%. 
Relief from pricey lettuce is uncertain, said Victor Smith, chief executive officer of JV Smith Companies, a grower and distributor of leafy greens. Record fertilizer prices, the increasing cost of fuel and the potential for drought, fueled by climate change, could cut supply even further in the future, he said.