Crypto Whale One River Says Volatility to Ease as Prices Rise
(Bloomberg) -- The famed volatility of cryptocurrencies such as Bitcoin will decline over time as prices for the digital assets move higher, according to Eric Peters, chief executive officer and founder of One River Asset Management.
"There are all kinds of reflexive dynamics in these assets that ironically will lead to less volatility the higher they go," Peters said in an interview during Bloomberg's The Year Ahead conference. "As the prices are going higher, you are drawing in new types of investors with stronger hands," noting that some level of volatility will likely remain.
Institutional adoption of crypto assets -- which played a large role in Bitcoin's rally this past year -- is only expanding, he added.
"Almost every big, creditable institution in the U.S. is having discussions about this," Peters said. Cryptocurrency is the "first and last asset class that will appear in our lifetime."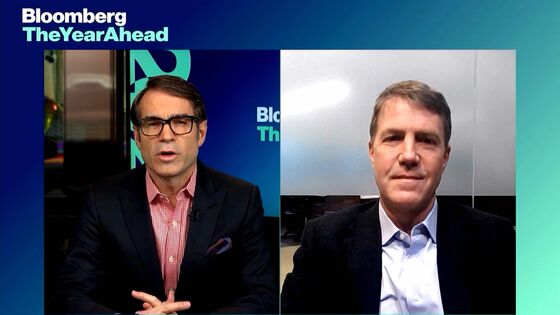 Peters bought more than $600 million in cryptocurrencies last year, joining forces with Alan Howard, the co-founder of Brevan Howard Asset Management. The hedge fund has holdings of digital assets that now exceed $1 billion at One River Digital Asset Management, he said.
Last year's surge in cryptocurrency prices and rock-bottom interest rates have increasingly attracted institutional investments in a space that has long been labeled as anti-establishment. Bitcoin traded around $32,000 on Thursday in New York, after surging to a record high of almost $42,000 three weeks ago.
"We have been anticipating this late-cycle activity where we advance fiscal policy," Peters said, adding that the pandemic has created an expansion that's in excess of what he could have imagined possible.
"It's very rare that you find an asset that can allow you to capitalize on future upside while mitigating on the downside," he said. "The future of finance will be digital."