Credit Suisse to Post First-Quarter Loss on Russia, Litigation
(Bloomberg) -- Credit Suisse Group AG issued its fifth profit warning in six quarters, as the hit from Russia's war in Ukraine combined with a growing burden of legal costs for the struggling lender. 
The Zurich-based bank said Wednesday that it expects to post a loss for the first quarter on the back of a 200 million-Swiss-franc ($210 million) charge related to Russian exposure, and an extra 600 million francs in legal provisions for previously-disclosed cases which "originated more than a decade ago."  
The negative results are another setback for the bank as it faces a difficult transition year likely to be marked by restructuring and legal battles. The lender is stopping new business in Russia in line with global peers and has been rapidly winding down credit to Russian clients, potentially entailing a more permanent loss in trading and lending revenues.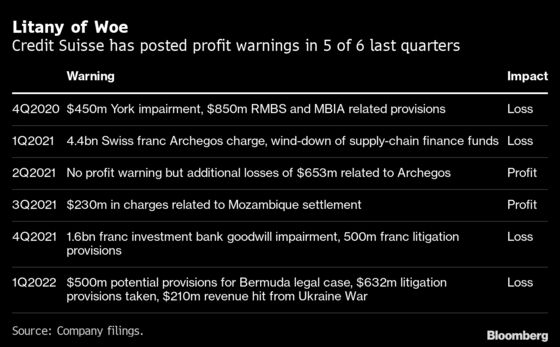 Shares of Credit Suisse fell as much as 2.8% in morning trading on the SIX Swiss exchange and was down 1.24% as of 11:06 a.m. in Zurich. The stock has lost almost half its value since March 2021, when the losses tied to Greensill Capital and Archegos Capital Management emerged.
The bank is due to report first quarter earnings on April 27.
Credit Suisse Chief Executive Officer Thomas Gottstein has struggled to convince investors that the bank can fulfill ambitious financial targets set last year alongside a strategy revamp that received a tepid reception. Against that backdrop, legal issues from past scandals continue to dog the company. 
Credit Suisse last month warned that it may need set aside more than $500 million for a Bermuda case involving a local insurance unit. That unit has been accused by Georgian billionaire Bidzina Ivanishvili of failing to prevent convicted fraudster Patrice Lescaudron from losing $400 million of the $755 million he'd invested.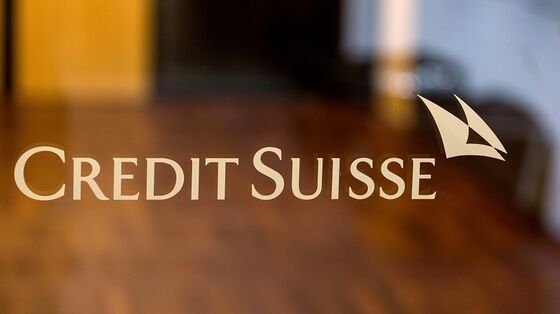 For a turn-around in the outlook for Credit Suisse, "we would need to see an end to unexpected risk events, a return to top-line growth and positive earnings momentum, and a commitment to greater capital return," analysts including Andrew Coombs at Citigroup Global Markets wrote in a note. "There appears to be no evidence of this yet based on this latest profit warning."
The bank also warned of an approximate 350 million francs in losses related to a decrease in value of an 8.6% stake in Allfunds Group. The loss is expected to be offset by a recovery of 170 million francs in provisions related to Archegos and 160 million francs in real estate gains.
"The underlying profit-before-tax could land anywhere between 0 and 0.9 billion francs," analysts at Jefferies led by Flora Bochahut wrote in a note on Wednesday morning. "Today's announcement shows that 2022, which Credit Suisse expects to be a transition and difficult year, continues to be hit by company-specific one-offs."
Read More: Credit Suisse Falls as Warning Hits Sentiment Again: Street Wrap
European and U.S. banks are warning of loss of business due to Russia's invasion of Ukraine. French lender Societe Generale SA is taking a hit of about 3 billion euros ($3.2 billion) after agreeing to sell its Rosbank PJSC unit. In March, Deutsche Bank AG said it will set aside an additional 100 million euros in the first quarter to prepare for a deterioration of its loan book on the back of Russia's war on Ukraine.
Citibank Inc. was forced to set aside $1.9 billion in reserves to cover souring loans tied to both its direct Russia exposure and industries that might be impacted by the war in Ukraine. JPMorgan Chase & Co. also reported a $902 million net reserve build related to risks of high inflation, the war in Ukraine, and Russia-associated exposure.   
Gottstein has previously said that 4% of the wealth assets the bank manages, or approximately $33 billion, are tied to Russian individuals.
Read More: Credit Suisse Warns of Possible $500 Million Hit in Bermuda Case
The bank also warned on lower activity in its capital markets business. Swiss rival UBS Group AG has been laying off equity capital markets bankers because of a sharp decline in revenue after a slowdown in deal-making across the industry and investment banking revenue in Europe.