Credit Investors Build Cash Buffers Against Volatility Storm
(Bloomberg) -- Heading into this volatile week caused by the omicron bombshell and Federal Reserve hawkishness, credit investors were already starting to rebuild their defensive buffers from below-average levels. 
Now amid renewed pandemic and inflation jitters, institutional managers from Invesco Asset Management to Banque Lombard Odier & Cie SA have fresh reasons to ramp up their cash positions to buy assets cheaper down the line.
It's an insurance policy to ride 2022 markets after a year that's shaping up to be the worst for euro and dollar corporate credit since 2018.
"It's appropriate to reduce risk levels and build cash if, like us, you believe that the drivers of volatility and modest widening we've seen are a hint at what's to come in 2022," according to Ashok Bhatia, deputy chief investment officer of fixed income at Neuberger Berman.
Read More: Junk Debt Gets Rude Awakening With Worst November in a Decade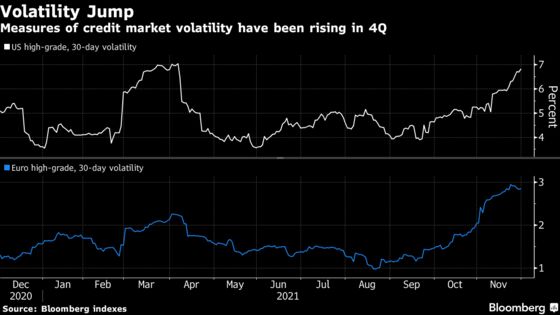 Volatility across assets is spiking in a week the world comes to terms with a novel Covid strain and a strong signal from the Federal Reserve Chairman to prepare for the paring of pandemic-era monetary support. 
Despite strong credit fundamentals and continuing low default rates, higher benchmark yields next year and slowing economic growth raise the prospect of higher risk premiums and negative returns. 
The average return an investor can expect through maturity when buying investment-grade euro corporate bonds today is just 0.5% per year, based on Bloomberg indexes. The market has lost almost twice that year-to-date, mainly due to higher government bond yields pushing corporate returns lower.
At Nomura Asset Management, Dickie Hodges is hunkering down in short-dated government debt. The manager of the $4.9 billion Nomura Global Dynamic Bond Fund also likes banks' contingent convertible debt with upcoming call options. These early-redeemed CoCos should generate cash just as central banks start tightening policy, and fanning volatility.  
"It seems irresponsible to chase ever lower spreads with ever greater risk," Hodges said.
Fund managers at Lombard Odier, meanwhile, are also scaling back their exposure in order to rebuild cash buffers, according to a video call hosted by the firm on the 2022 investment outlook. 
All that means dry powder is getting back into fashion, though it remains low by historical measures. According to the latest survey of credit investors by Bank of America Corp., the average cash weighting in high-grade portfolios stood at 3.8%. That's an increase of 0.3 percentage points from August but still lower than the average of about 4.5%. 
"Volatility will give us better opportunities to deploy risk capital in future," said Nomura Asset's Hodges. "We remain patient."
"We are rather building some sort of ballast by increasing allocation to cash and the idea would be to reinvest it into more risky assets if there were a correction in the course of 2022," said Stephane Monier, chief investment officer at Lombard Odier.
For "portfolios that approach this market with cash and a low-risk posture in duration and credit, there could be opportunities," according to Invesco Asset Management's 2022 fixed interest outlook.
"It's prudent to have some dry powder on hand in the form of high-quality short-duration securities to act during periods of weakness," PineBridge Investments' head of credit and fixed income, Steven Oh, wrote in his 2022 outlook.
Cash "is a cheap and valuable optionality given where spreads are," said Mark Benstead, senior portfolio manager at Legal & General Investment Management.