Coupon Duo Now Worth $1.5 Billion After Honey's Sale to PayPal
Coupon Duo Now Worth $1.5 Billion After Honey's Sale to PayPal
(Bloomberg) -- Clipping coupons is no way to amass a modern mega-fortune, but two Los Angeles men who reinvented the practice for the internet age have just reaped about $1.5 billion.
That's the estimated pretax haul for Honey Science Corp. co-founders George Ruan, 40, and Ryan Hudson, 39, following the $4 billion sale of their firm to PayPal Holdings Inc., according to EquityZen, a marketplace for shares of closely held companies. Ruan, the chief executive officer, and Hudson received roughly $900 million and $575 million, respectively.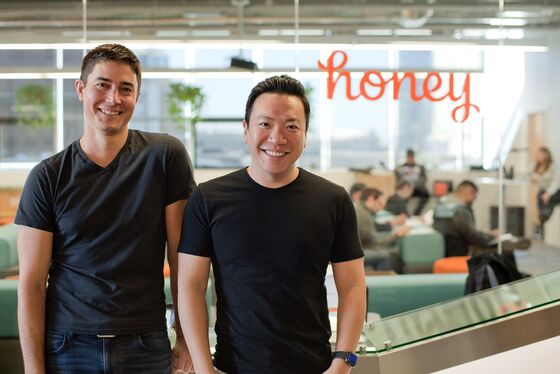 A spokesman for San Jose, California-based PayPal declined to comment.
Honey is largely used by consumers as a browser extension that automatically applies coupons at e-commerce sites. PayPal has said it plans to use those capabilities to give its customers a better shopping experience and help merchants boost sales, partly with more timely and personalized offers.
The duo join an ever-growing roster of U.S. fintech tycoons. Plaid Inc. co-founders Zach Perret and William Hockey announced the sale of their company to payments giant Visa Inc. for $5.3 billion on Jan. 13, while Robinhood Markets Inc. co-founders Vlad Tenev and Baiju Bhatt became billionaires in 2018 as the valuation of their electronic stock brokerage soared.
The cash acquisition of Los Angeles-based Honey -- announced in November and completed this month -- was PayPal's largest-ever acquisition. The deal gives it access to valuable data on consumer buying habits.
Ruan and Hudson, who founded Honey in 2012, will continue to run the business, according to a Nov. 20 statement. About 17 million people use Honey apps or web browser extensions monthly to find discounts at online shopping sites.
To contact the reporters on this story: Tom Metcalf in London at tmetcalf7@bloomberg.net;Julie Verhage in New York at jverhage2@bloomberg.net
To contact the editors responsible for this story: Pierre Paulden at ppaulden@bloomberg.net, Peter Eichenbaum, Steven Crabill