Colonoscopy, Unloved Ritual of Turning 50, Moves 5 Years Earlier
Colonoscopy, Unloved Ritual of Turning 50, Moves 5 Years Earlier
(Bloomberg) -- For nearly a generation, the colonoscopy has been an age-50 rite of passage, followed by a repeat procedure every decade or so until age 75. Now, the time of life for this unpopular examination is getting longer.
An influential U.S. panel last week moved the recommended age for a first colonoscopy down from 50 to 45. And a major new study calculates that among people over 75 who are in good health, continuing to scan saves lives.
"Forty-five is the new 50 for colorectal screening" among people at average risk, said Robert Smith, who leads the development of screening guidelines at the American Cancer Society. "Ideally, they should have this examination in their 45th year, and we need clinicians to stress this."
The expanding timeframe adds to the impetus for innovative, less-invasive alternatives to the procedure, including fecal and blood tests.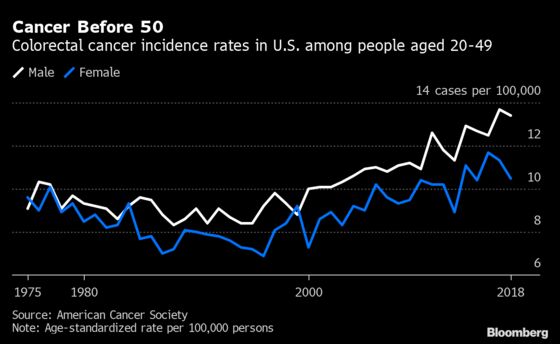 Most cases of colon and rectal cancer occur in older people. But rates have been rising rapidly in people under age 50, who accounted for 11% of all U.S. colon cancers in 2020, up from 5% in 2010. By 2030, colon and rectal tumors are expected to kill more people in their twenties through forties than any other type of malignancy.
The U.S. Preventive Services Task Force, an advisory panel that assesses health practices, gives the evidence for lowering the colonoscopy age to 45 a grade of "B" -- strong enough that federal law will require health insurers to cover the 45-to-50 age range.
"Lowering the recommended age to initiate screening will make colorectal screening available to millions more people in the United States," said Kimmie Ng, who directs the Young-Onset Colorectal Cancer Center at Dana-Farber Cancer Institute.
All races will benefit from the shift, the task force found. Risk is especially high among Black patients, "who are about 20% more likely to get colorectal cancer and about 40% more likely to die from the disease," Ng said in a statement.
At the other end of the age spectrum, patients generally stop getting colonoscopies at age 75, though the task force guidelines suggest an individualized approach through age 85.
Increasingly, "it shouldn't be the default that you stop" at 75, said Andrew Chan, a gastroenterologist and director of cancer epidemiology at Mass General Cancer Center. "The presumption should be, more and more, that we should continue unless other health concerns suggest otherwise."
In a study that looked at data from more than 56,000 patients over 28 years, Chan and colleagues found that colonoscopies in healthy people over 75 cut the risk of colorectal cancer and death from it by about 40%. In patients who had heart disease or other serious health issues, however, the colonoscopies brought no benefits, and the procedures do carry the potential for complications, including bleeding and perforation.
The findings in the journal JAMA Oncology raise the prospect of more doctor-patient encounters like one Chan had this month with a healthy 70-year-old who thought her colonoscopy would be her last. He "recalibrated her expectations," he said, and she was happy about it -- as patients often are when told they can expect many more years of health.
"It's a little bit of a disappointment that they have to go through the prep," Chan added, referring to the unpleasant liquid regime for clearing out the bowels in advance of the procedure. "But I think people will take that every 10 years as long as they know they're doing something good that can extend their life."
As eligibility expands, he expects that with the rising numbers of people needing colonoscopies, "supply and demand are going to be increasingly mismatched," adding to the drive for new, less invasive ways to screen for colon and rectal cancer.
The current task force guidelines include recommendations for stool tests -- which need to be done every one to three years -- along with colonoscopies every 10 years and two other types of tests, a "virtual colonoscopy" and a sigmoidoscopy, that should be scheduled every five years.
Blood tests are also in development: Guardant Health Inc. just reported results on its Lunar-2 assay at the American Society of Clinical Oncology annual meeting that were probably strong enough to garner reimbursement from Medicare, according to Evercore ISI analyst Vijay Kumar.
Observers noted, though, that the blood test is not on the market yet. A competitor, Exact Sciences Corp.'s Cologuard fecal DNA test stands to benefit immediately from the new guidelines.
For Smith from the American Cancer Society, which lowered its recommended colorectal screening age to 45 back in 2018, any valid test is a good test if it will bring in more of the roughly one-third of eligible people who still do not get colonoscopies. He cites current estimates that if everyone were screened as recommended, the risk of death from colorectal cancer could be cut by 85%.
Still, appreciating the procedure's power to save lives doesn't mean loving the process.
"Would we be romantic about colonoscopies for screening if we had better tests? No," Smith said. "I don't know many gastroenterologists who would argue against an accurate test that was less stressful.'"