Cocoa Caps Biggest Weekly Gain Since 2001 on West Africa Jitters
Cocoa Extends Rally to Eight-Month High on Hershey Trade
(Bloomberg) -- Cocoa futures capped the biggest weekly gain in 19 years amid jitters on West African trade and supply, pacing a rally in soft commodities.
Ghana, the world's second-biggest producer, criticized cocoa sustainability programs and companies that it said are backtracking on a pledge to pay more for beans. In Ivory Coast, the top grower, President Alassane Ouattara and his main political rival last week began talks to ease tensions over last month's disputed election. Violence left at least 85 people dead and hundreds injured, the government said.
Cocoa prices rose to the highest in almost nine months to gain for the sixth straight session, the longest rally since August. Speculation that Ghana's output may trail year-earlier levels amid adverse weather helped bolster futures.
"There are several issues for West African producers that could result in near-term supply bottlenecks," the Chicago-based Hightower Report said. Concern that buyers are balking at paying the living-income differential, or LID, for Ivorian and Ghana supplies "has added more near-term supply anxiety to the market," the report said.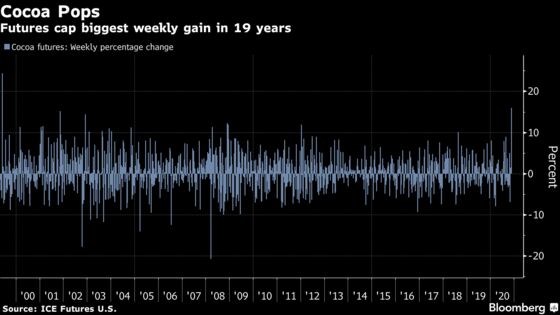 Cocoa for March delivery climbed 1.8% to close at $2,712 a metric ton on ICE Futures U.S. in New York. The price reached $2,746, the highest for a most-active contract since Feb. 27. This week, the commodity surged 15%, the most since November 2001.
Hershey Co. took the unusual step of buying beans through the exchange rather than the physical market, skewing some price differentials.
"With Hershey somewhat circumventing the LID price and taking the New York futures market by surprise, it's completely upended the structure," said David Cutler, vice president of soft commodities at R.J. O'Brien Ltd. in London.
Raw sugar, arabica coffee and cotton capped the third straight weekly gains.