Cnergyico Poised to Become Pakistan's Largest Fuel Retailer
(Bloomberg) -- Cnergyico Pk Ltd. will buy a controlling stake in Puma Energy Pakistan Pvt., which will double its retail business and make it the second-largest fuel retailer in the nation that is seeing record gasoline sales. 
The company has approved the plan to buy a 57% stake in Puma Energy Pakistan, the company said in a statement to the stock exchange. On Wednesday, Bloomberg News reported the deal was in the final stages, valuing the company at more than 4 billion rupees ($23 million), according to people with knowledge of the matter. Singapore-based Puma Energy Holdings Pte had sold its stake in the Pakistan unit to joint venture partner Chishti Group last month, the people added.
Shares climbed 6.1% to the highest in two months, making it the largest gainer on the benchmark KSE-100 Index as of 1:34 p.m. local time.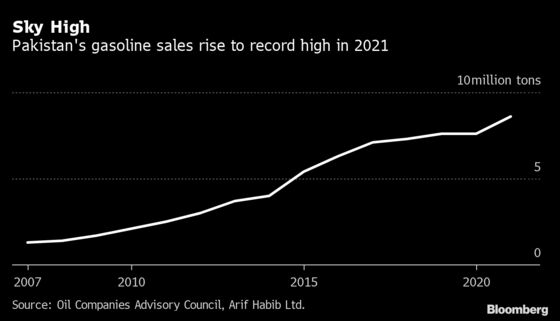 Puma Energy Holdings Pte, the struggling emerging-market fuel retailer and storage firm controlled by trading house Trafigura Group Pte, has been in talks to sell infrastructure assets in more than 30 locations, Bloomberg News reported in October. Puma Energy Holdings Pte hasn't posted an annual profit since 2017 following a debt-fueled acquisition spree. 
The deal will add 542 fuel stations to Cnergyico's holdings, taking its total to about 1,000 and making it the largest private fuel retailer in the country. State-owned Pakistan State Oil Co. has 3,500 retail stations, Total Parco Pakistan Ltd. has more than 800 outlets and Shell Pakistan Ltd. has 766 outlets.
Cnergyico will continue to operate the two brands separately, said the people. Petrol sales rose to a record last year in the South Asian nation.