China's Xi Urges Putin to Negotiate With Ukraine During Call
China's Xi Urges Putin to Negotiate With Ukraine in Phone Call
(Bloomberg) -- Chinese President Xi Jinping urged his Russian counterpart Vladimir Putin to negotiate with Ukraine during a phone call between the two leaders Friday afternoon, state media reported. 
"China supports Russia and Ukraine to resolve issues through negotiations," Xi said, according to China Central Television. Putin told Xi that "Russia is willing to conduct high-level talks with Ukraine," the broadcaster said.
Beijing is trying to strike a balance in its approach to Russia's invasion of Ukraine, one that allows it to unite with Moscow in the face of pressure from the U.S. and other nations in the West, while at the same time advancing efforts to present China as a responsible global power.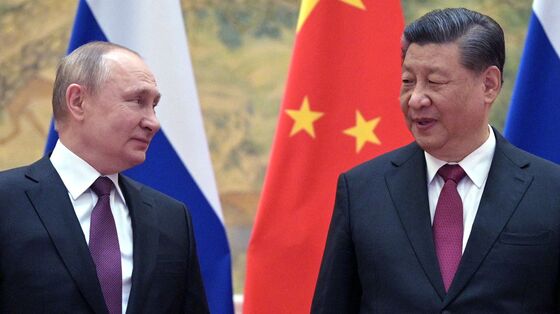 China has so far refused to characterize Russia's actions in Ukraine as an invasion. Earlier this month, China and Russia released a joint statement declaring their friendship had "no limits."
"China is willing to work with all parties in the international community to advocate a common, comprehensive, cooperative and sustainable security concept, and firmly safeguard the international system with the United Nations at its core," Xi said during Friday's call. 
He reiterated that China respects the sovereignty and territorial integrity of all countries. 
The Chinese President also thanked Putin for traveling to China to attend the Beijing Winter Olympics' Opening Ceremony in early February.
With assistance from Bloomberg